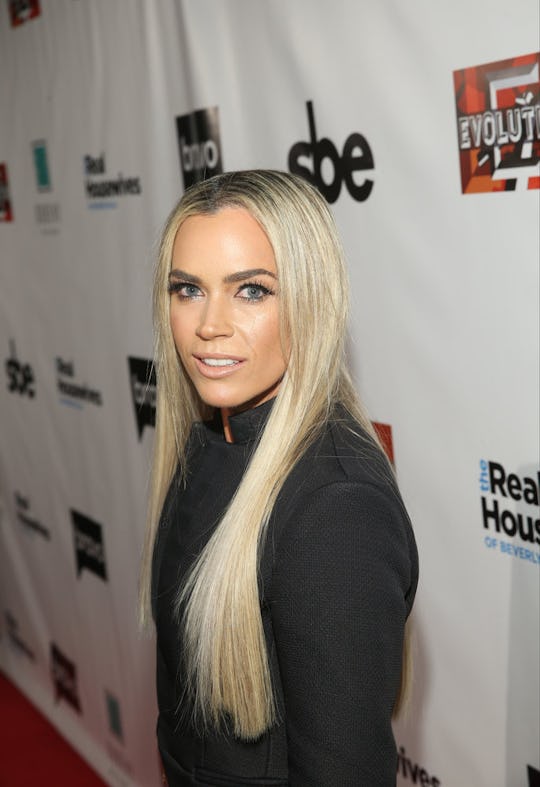 Jesse Grant/Bravo
These Photos Of Teddi Mellencamp's Kids Are Too Adorable For Words
Now that she has joined The Real Housewives of Beverly Hills family, it is time to take a closer look at Teddi Mellencamp's actual family. And that means lots of social media browsing, of course. And the photos of Teddi Mellencamp and her kids prove that this RHOBH newcomer has a beautiful family. And by beautiful, I mean just downright precious. They also appear to have the most active home life of any family I've ever seen. Teddi and and her husband Edwin Arroyave post tons of pictures of their family going horseback riding, sledding, swimming, bike-riding, traveling, hiking, and putting on performances. (Um, can I join this family, please?)
Teddi joins The Real Housewives of Beverly Hills in the show's eighth season, along with favorites Lisa Vanderpump, Kyle Richards, Lisa Rinna, Erika Girardi, and sophomore Dorit Kemsley for what is sure to be a wild ride. Like her costars, Teddi is married with an adorable family who she loves to show off on her Instagram account. And I love to see the things she posts. Because this little family is so beautiful and I can't wait to see more of them on the show. Hopefully Teddi sticks around for a while to shake up the group dynamics. And hopefully she brings around her cute kids.
Teddi and her husband are the proud parents of Slate, who is 5 years old and Cruz (they call him Powee, which is too cute) who is only 3. Edwin's daughter Isabella from a previous relationship is 9 years old and completes the adorable picture. As you can probably tell from the photo above, these kids are already fashion forward. Slate has even perfected the sideways hand-on-hip pose. Maybe she gets it from her mom.
I don't know what it is, but something tells me that Slate is going to be very big in show business some day. Just look at this pitch-perfect delivery of one of the most iconic lines in cheerleading movie history. "I'm still. Big. Red." Yes, girl.
Just look at this ham. Teddi and Edwin captioned this photo: "Picture day today. Slate chose a modest under the radar coat for the occasion..." This little girl is my new queen.
Teddi has talked often about her background as a professional Equestrian and it appears that she's passing that on to her kids. Looks like little Cruz isn't so sure about this particular horse, however.
The family is clearly extremely active and does a lot of activities together. Here they are on a giant family bike ride along with a dog.
In another example, here the family is tubing at Gorgoza Park in Utah, and each child gets their own appropriately-sized inner tube. It's only a matter of time until we see them all skiing, complete with tiny baby-skis for the youngest kid. I'm beginning to think being a part of this family is like a full-time summer camp.
But that doesn't mean the family doesn't make time for low-key snuggling and just hanging out on the couch. Just look at this sweet little moment with Cruz, Slate, and their dad.
Sometimes they just hang out on the floor with the dog who seems awesome and knows how to give some amazing side-eye, if I do say so myself.
Basically, what I want to know is: is it too late to be adopted by Teddi? I will change my name and I may even start exercising if I'm allowed to go on these super-fun vacations. Please?
Check out Romper's new video series, Romper's Doula Diaries:
Watch full episodes of Romper's Doula Diaries on Facebook Watch.