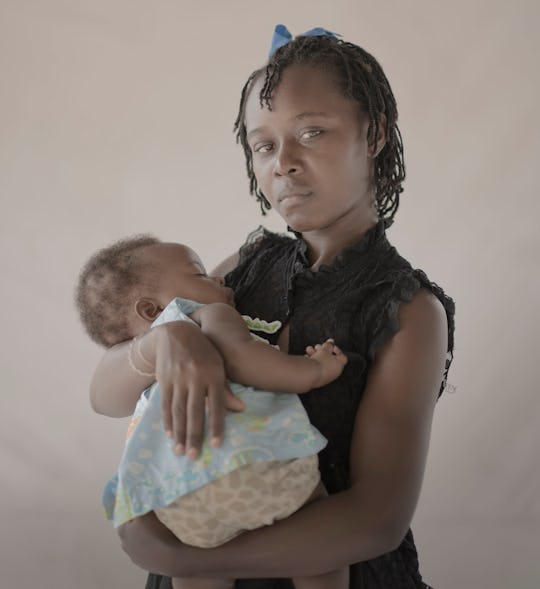 Pieter ten Hoopen/Plan International-UNFPA
Photos Of Teen Mothers From Around The Globe Tell A Harrowing Story We All Need To Hear
It's all too easy to imagine that all young mothers look like MTV Teen Mom subjects, but these photos of teen mothers from around the globe tell a more complex story about motherhood that can add some perspective. Ahead of the Women Deliver conference in Copenhagen this week, photographer and filmmaker Pieter ten Hoopen travelled to talk to teenage mothers from Zambia, Haiti, and everywhere in between, and to photograph them and document their stories.
This is the 4th Annual Women Deliver conference, where policy makers and researchers gather to discuss women's rights and health, which is always a good thing. But Hoopen's images and interviews with the subjects, written by Sofia Nordenskiold, a journalist and press officer for Plan International, sum up many of the issues women from around the world face. Some of the women have husbands or boyfriends that they willingly slept with and then didn't have options once they were pregnant. Others girls had more complicated stories.
Most of the girls had no sex education before starting to date or have sex. Many, in their own words, say that they didn't even understand the mechanics of sex or of pregnancy, though most of their countries have clinics and some access to contraception. Some say they would still be too scared to ask for contraception, even knowing that it exists. Some are part of women's groups in their communities and helping other girls to understand their own bodies. Others have sworn off sex and more children since giving birth.
Many of them are disappointed to have given up on school and the careers they dreamed about, though they have hope that they can return to them once their children are grown. Others are happy to be taking care of a household and a family and have no interest in furthering their education.
Their respective stories mainly show that sometimes motherhood is a choice, other times it isn't, and that every mother learns to adapt, wherever they are.
Or, in other words, females are strong as hell.