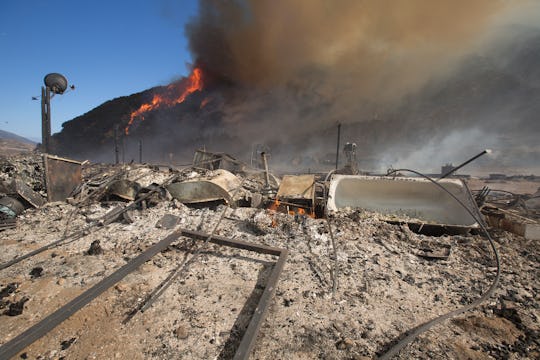 David McNew/Getty Images News/Getty Images
Striking Photos Of The California Wildfires Show The Heartbreaking Devastation
Areas throughout the state of California are experiencing devastation unlike any other. There are currently two major active wildfires in two different parts of the state — Camp Fire in Northern California and Woolsey Fire in Southern California, according to CBS News. It might be hard for others to understand how massive these fires are. But by looking at photos of the California wildfires that are ravaging areas of the state, it can put things into perspective. People are losing everything because of these fires and they can't do anything about it.
The fires started earlier this month, according to CNN, and have been raging since. It's a little unclear what started the Camp Fire, which is located in Butte County, California, but it is now considered to be one of the most devastating wildfires in California history, according to the New York Times. The impact of these fires is terrifying — homes have been lost with prized possessions in them, and over 600 people are currently missing across the state, according to CBS News. Celebrities such as Miley Cyrus and Liam Hemsworth have lost their home and the things in them, according to Refinery29, and there are so many more people who have been just as impacted by these fires.
It's one thing to hear these facts, but it's another thing to see photos of these fires to understand what is truly going on.
Camp Fire
Over 11,000 structures, including homes, have been burned and 63 lives have been lost because of Camp Fire which was only 45 percent contained as of Thursday night, according to CBS News. This means it has the potential of creating so much more damage — because there is still so much that needs to be done to fully put this fire out.
Photos of Camp Fire's devastation almost seem apocalyptic, according to Washington Post — one fire official told the Washington Post that the damage done in the down of Paradise, California looked like "Armageddon." This area of California is shrouded in smoke and ash, which gives the towns being ravaged by these fires an eery cast to them.
Many of the missing people from the Camp Fire are elderly, according to NPR, because Paradise is a city in California where many people go to retire. Currently, officials in Northern California are looking for these people while at the same time, trying to save so many more homes and possessions by putting these fires out.
"A lot of these people don't know we're looking for them," Butte County Sheriff Kory Honea said during a press conference on Thursday, according to NBC News.
The number of people that have been displaced from their homes has continued to grow, as well. Around 52,000 people were reported to have been in shelters because they were forced to evacuate their homes, according to NBC News.
Woolsey Fire
The Woolsey Fire, located in Southern California near the city of Malibu, has also caused a lot of grief. Although the fire is currently 69 percent contained, according to CBS News, there is still a long way to go — and a lot of repairs to be made — before anyone fully recovers from what it has done to areas in Los Angeles County, California.
There is even a possibility that the fire could spread to the Pacific Ocean, according to ABC News.
Over 98,000 acres have been burned, according to CalFire, destroying 600 structures and threatening thousands more because of this fire. Unlike the Camp Fire, only three people have died because of the Woolsey Fire and three firefighters have been injured since the fire broke out on Nov. 8, according to CalFire.
But that doesn't make it any less important than Camp Fire. Both of these fires across the state show that in times of despair, everyone could use a little help. And by looking at the photos of these fires, it really does put that thought into perspective.
In addition to ruining so many homes, the Woolsey Fire has also destroyed movie sets, proving that the impact of these fires has the potential to reach people outside of the state, according to ABC News.
Because of these fires, there is so much that people have to worry about — including their own breathing. The health impacts from these two fires will still last, even once these fires are put out, according to Axios.
What You Can Do To Help
If the photos from these fires have moved anyone, there are plenty of ways that people can help — even if they don't live in California (or the United States, for that matter).
Donating money is perhaps the easiest and quickest thing for anyone to do in this situation. National charities like the Red Cross and Salvation Army are accepting donations to provide meals and shelters to fire evacuees, according to the New York Times. And there are local charities — like the California Fire Foundation and California Community's Wildfire Relief Fund that has been working with victims of wildfires in California for years — that people can donate money to. The New York Times has a very helpful guide to deciding what charity is the right fit for people looking to donate.
For those looking to help individuals and their families, GoFundMe currently has dozens of campaigns for the victims, first responders, and educators looking to rebuild their lives.
These photos are absolutely heartbreaking — but California will recover and will rebuild. Everyone can do some part in ensuring that this will happen and people will be able to recover.