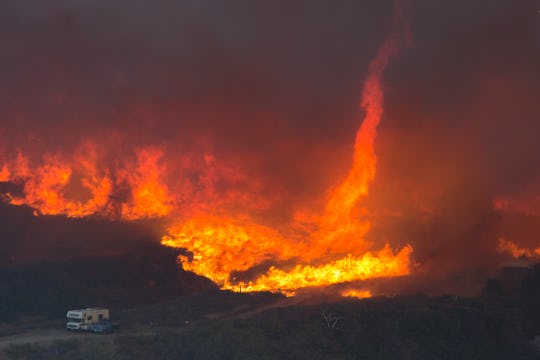 David McNew/Getty Images News/Getty Images
Photos Of The California Wildfires Show Just How Dangerous The Situation Has Become
The southern California wildfires that started up on Tuesday appear to be growing. In San Bernadino County, the ski town of Wrightwood and mountain town of Lytle Creek are most threatened. Photos of the California wildfires show just how dangerous the situation has become, with many exhibiting climbing flames and homes engulfed in smoke.
So far, over 82,000 people have had to evacuate in California due to the spread of the fires. Currently, 1,300 firefighters are working to control the blazes, utilizing fire retardants as well as massive amounts of water. Though residents of the affected areas were asked to evacuate, it's been reported that only about half of them have done so.
Currently, crews are dealing with three main fires: The Blue Cut fire, Clayton fire, and Chimney fire. All three of these fires have various, though relatively small, degrees of containment. The Blue Cut fire is the least contained, having spread across 31,600 acres with only 4 percent containment. Eric Sherwin of the San Bernardino County Fire Department told CBS News that, in dealing with this particular series of fires, the crew has "had to continually retreat against that advancing wall of fire." Sherwin said this was unusual, remarking: "[This] was something that I haven't witnessed in this section, ever."
The following photos illustrate some of the current blazes, the aftermath of some of the fires, as well as apparent efforts to combat the California wildfires:
It was "a dangerous combination of hot weather, bone-dry conditions and breezy winds" that allowed these fires to advance and spread, reports The Washington Post. As temperatures in California have reached extremely high numbers —to the triple digits, in some cases— the fire can then catch on and expand rapidly. Park Williams, a bio-climatologist at Columbia University's Lamont-Doherty Earth Observatory, attributes the danger of the fires to climate change, saying that the "increases in fire activity that we've seen over the past several decades" have been caused by global warming.
As of now, no one has died in the fires, due to the fact that they have been burning mostly in uninhabited areas. These fires remain so expansive, even, that the California fires have been seen by NASA satellites. The actual cause of the fires remains under investigation by local authorities. As the fires continue to grow, firefighters are not as equipped as they would like to be; Years of drought in California have hindered local fire-fighting resources.