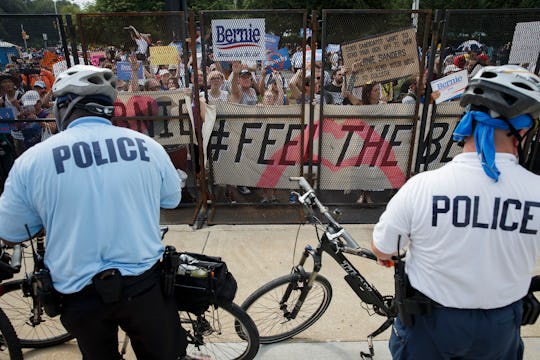 PATRICK T. FALLON/AFP/Getty Images
Photos of the DNC Protests Prove It's Going To Be A Long Week
Already, the Democratic National Convention has been rowdier than that of the RNC in Cleveland last week and photos of the DNC protests from day one prove that it's going to be a very, very long week. Vermont Sen. Bernie Sanders supporters have flooded Philadelphia all weekend and Monday they were ready to go. Staged protests in FDR Park and around the city were ongoing all day. And it's not just in the streets. Within the Wells Fargo Center, the convention hall, Bernie Sanders supporters could be heard loudlychanting, "Lock her up," a line they took from the RNC and "Bernie," every time someone mentioned Hillary Clinton by name.
That Wikileaks exposed DNC emails on the eve of the convention isn't helping matters either. Protestors are also turning against the party overall chanting, "Hell No, DNC, we won't vote for Hillary." No one likes to be told what to do. It's also bolstered support for Sanders, who was targeted in the emails and apparently subject to bias throughout the primary season. Since the hack, Florida Sen. Debbie Wassserman Schultz has stepped down as chairman of the party and has been removed from the speaker's list for the week. Tensions are running high and she probably would have been booed off of the state.
Here are some images from the chaotic day in the City of Brotherly Love:
The protests and chants against Clinton and the DNC are so intense that Sanders even sent a text message to supporters to ask them to keep things calm and civil inside the convention hall (and eventually vote for Clinton).
Although they're protesting the DNC and bashing Clinton, most of the protestors aren't really Democrats, so the party is not as "divided" as it looks on the news. Most of the protestors are Independents or planning on voting for Green Party candidates Jill Stein or Gary Johnson. Police unions are also protesting the convention, because the DNC has booked relatives of people killed by police to speak at the convention, but no relatives of slain police officers.
In an official statement, John McNesby, president of the Fraternal Order of Police Lodge No. 5 in Philadelphia wrote, "It is sad that to win an election Mrs. Clinton must pander to the interests of people who do not know all the facts, while the men and women they seek to destroy are outside protecting the political institutions of this country."
So far, there have been a reported 40 arrests in Philadelphia but that number could rise throughout the evening. That's more than double the arrests for the entire Republican National Convention last week in Cleveland. But overall it's been pretty peaceful, so much so that Police Commissioner Richard Ross Jr., said that police are more bothered by the heat and heat sickness than they are with any alleged violence.
Philadelphia police and residents definitely have a very, very long, very loud week ahead of them. (And a hot one — remember to hydrate, Philly.)