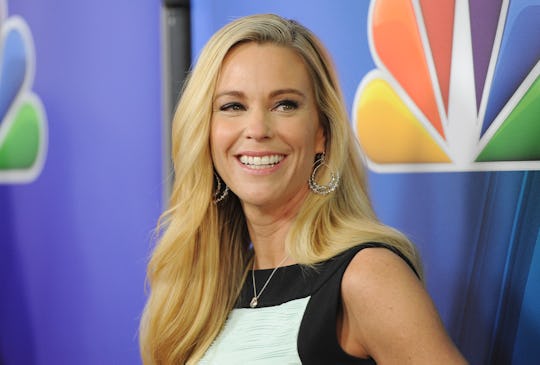 Angela Weiss/Getty Images Entertainment/Getty Images
Photos Of The Gosselin Kids Then Vs. Now Will Have You Feeling So Old
It's been nearly a decade since the heyday of Jon & Kate Plus 8, the reality show starring now-divorced couple Jon and Kate Gosselin and their gaggle of children. The family's never strayed too far from the spotlight, but they're hardly the regular media fixture they were years ago, so casual viewers might be surprised when they compare these photos of the Gosselin kids then versus now. Yes, we all understand the basic principal that children age, and as they do, their appearances change, but it's still a shock to see a toddler suddenly turn into a teen seemingly overnight.
The Gosselins came by their fame by way of the unusual circumstances surrounding their family's creation; Kate was unable to conceive the old-fashioned way due to polycystic ovary syndrome, according to Biography, so she underwent fertility treatment in order to conceive twins Mady and Cara, born October 2000. The couple opted for further treatments to conceive a third child, which resulted in the birth of sextuplets Alexis, Hannah, Aaden, Collin, Leah, and Joel four years later. America first met the famous family on the 2005 Discovery Health special Surviving Sextuplets and Twins, and they were revisited in another special a year later.
The success of the specials led to the creation of Jon & Kate Plus 8, which premiered in 2007. The first two seasons of the show aired on Discovery Health Channel before moving to TLC, and after the couple's divorce, it was rebranded as Kate Plus 8.
The series has aired sporadically since then, and in between, Kate has appeared on several other reality shows, such as Dancing With The Stars, Celebrity Wife Swap, The Apprentice, and Sarah Palin's Alaska.
Now, twins Mady and Cara are 17 years old, and the sextuplets are turning 14 next month.
TLC is rebranding the show yet again as Kate Plus Date, People reported, which will focus on the matriarch trying to find love, which is undoubtedly no easy task when you have eight children, reality TV notoriety, and a complicated past with your ex-husband.
Kate explained to People that she's going about it a little differently than most single moms:
If I'm going to date someone, I can't just go out on a date — it's creepy to me to think of just going out somewhere with some stranger, and so I actually feel like doing it like this is the best and safest way for me to go on a date — a camera crew will be there! I'll be safe! And the person will have been vetted by a matchmaker.
Mady and Cara are reportedly on board with the idea, especially in light of their estrangement with their father. In 2016, Mady told People that they have nothing to do with their dad these days:
He makes it seem like we're being kept from him, which is insane. He should maybe spend some time thinking about why we don't want to see him, and maybe realize that if he ever does want a relationship with us, talking about us on TV is not the way to make that happen. He doesn't even know us. How can he dare to talk about us?
Further complicating matters is the fact that one of the sextuplets, Collin, has a disability and lives away from home at a treatment facility. Kate also opened up to People about his situation:
Collin has special needs. [There's] a fairly fluid diagnosis of what those needs are, but he needs to learn certain strategies to help him deal with things. This has been a struggle we've had for a very long time, and it's one I've dealt with on my own. I've felt very alone in this. By the same token, it's not something that has only impacted me or him – our entire family has been impacted.
Having him live apart from the family has been tough, she continued, but she feels that the program is "helping him learn the skills he needs to be the best him he can be." Still, it's a challenge for everyone, she told People.
We miss him so much, so it's been hard because there is a huge hole in our family without him here. But it comforts us to know he's where he needs to be right now, and I can feel good about that.
Meanwhile, last November Jon claimed that he doesn't even know where his son lives. "I have an idea of where he is, but I don't know exactly where he is," he told In Touch. "I mean, I ask but she doesn't tell me. She doesn't answer any of my texts."
The father of the famous family has been spending his time focusing on his second act, which includes a DJing career and stripping as a side hustle.
"My kids know everything that's gonna go on," Jon told Page Six. "I cleared it with them before I did anything … I told them the whole marketing plan. They're teenagers now. They understand this stuff." Boy, did they grow up fast.