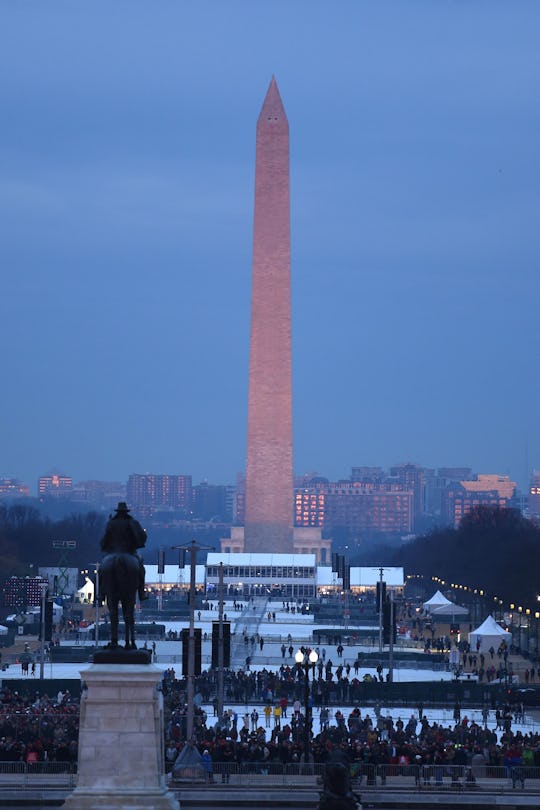 TIMOTHY A. CLARY/AFP/Getty Images
Must-See Photos From Donald Trump's Inauguration
Today, Donald J. Trump is being inaugurated as the 45 President of the United States of America. The event is much anticipated, both as reason to celebrate for some voters and reason to protest and resist the turn of events for others. Throughout the day, video and photography capturing the whole affair are likely to come from all sorts of sources — so just to make things easier for you, below are some photos of the Inauguration you should see.
Performers scheduled to appear at inaugural events include Jackie Evancho, the Mormon Tabernacle Choir, The Rockettes, 3 Doors Down, Toby Keith, The Piano Guys, and Big & Rich. Some familiar political faces will also be on hand — former Presidents Jimmy Carter, Bill Clinton, George W. Bush, and Barack Obama, as well as their respective the first ladies, have all said that they're attending Inauguration Day. Yes, even former Secretary of State Hillary Clinton, who lost to Trump in the recent presidential election, will be in attendance for Inauguration Day.
There are also many political figures who have announced that they won't be attending Trump's inauguration, with a current total of 65 Democratic U.S. Representatives saying they're opting out of attending. We will see who does appear, but at the very least, soon-to-be President Trump and his Vice President, Mike Pence, will officially take their oaths of office.
These are some of the most heartening images from the day. No matter what side of the political fence you sit on, today is certainly a profound day in American history — and these images highlight just that:
The Morning Of
President Obama Exiting The Oval Office For The Final Time
Obama Leaving The White House For The Final Time Alongside President Trump
Former Vice President Biden and Dr. Jill Biden Leaving The Grounds As Well
Past Presidents And First Ladies Arrive
Former Secretary Of State Hillary Clinton's Arrival
The President, First Lady, Former President, And Former First Lady
President Trump's Children Arrive
Protestors On Washington
Scenes From The Inauguration
And The Main Event
It was certainly a memorable event, one that will likely be analyzed a lot in the weeks, years, and decades to come. Photographs captured much of the day, the good and the bad, and helped to immortalize the proceedings for years to come.