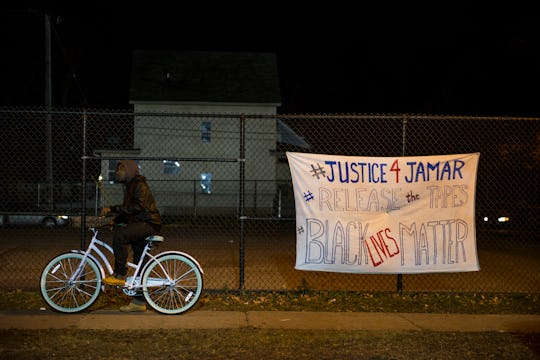 Stephen Maturen/Getty Images News/Getty Images
Photos Of The Minnesota Protests Capture The Pain & Outrage After Philando Castile's Death
Just hours after a gruesome video surfaced of the shooting death of Alton Sterling at the hands of Louisiana police officers, news erupted that a second man had been killed by police officers — and that yet another video had managed to capture the final moments between an unarmed black man and law enforcement. The death of 32-year-old Philando Castile at the hands of a Minnesota police officer sparked protests on Wednesday night as demonstrators call on the governor for justice, NBC News reported. And as photos from the overnight protests in Minnesota surfaced on Thursday morning, so did more questions about what led to Castile's death — and how local officials planned to respond.
Castile was driving with his girlfriend and their 4-year-old daughter in their Falcon Heights, Minnesota, neighborhood when a police officer pulled him over for an alleged traffic offense, NBC News reported. Castile's girlfriend, Diamond Reynolds, live-streamed the moments following the couple's encounter with the unnamed officer in a Facebook Live video that has been watched more than one million times, according to CNN.
According to the video, the couple was stopped for a broken tail light. When the officer requested Castile's license and registration, Castile told the officer that he had a licensed firearm in the car, Reynolds said in the video. Still, according to Reynolds, when Castile reached for his license, the officer shot him four times. The St. Anthony Police Department has not responded to Romper's request for comment.
NBC reported that, within hours of Castile's death, groups of demonstrators descended on the St. Paul residence of Minnesota Gov. Mark Dayton to protest the latest incident out of more than 115 black men killed by police officers in 2016.
According to that report, the demonstrators chanted "No Justice, No Peace" and "Prosecute the Police" while covering the railings of the governor's residence with police tape.
Minneapolis NAACP President Nekima Levy-Pounds was among those protesting at the governor's mansion, according to NBC. Pounds called Castile an "upstanding citizen," according to that report, and added that, after two shocking police-involved fatalities in as many days, the protests reflected the community's outrage and frustration. "We just have a number of questions about how something like this could happen once again," she said in her NBC interview.
The St. Anthony Police Department confirmed to NBC that the officer involved in Castile's death had been placed on paid administrative leave pending an investigation by the Minnesota Bureau of Criminal Apprehension.