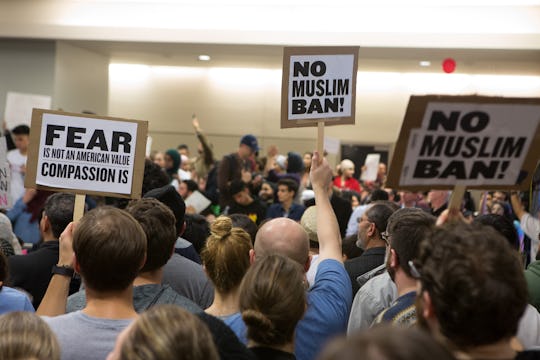 G. Morty Ortega/Getty Images News/Getty Images
Muslim Ban Protesters Are Ready To #Resist
In case you've been living under a rock these past couple of days, or made the (probably smart) decision to unplug over the weekend, allow me to fill you in: President Donald Trump signed an executive order on Friday to temporarily ban all refugees from seven specific countries from entering America. The seven countries affected — Iran, Iraq, Syria, Sudan, Libya, Yemen, and Somalia — are all countries in which the majority of the population are Muslim, and are also some of the most refugee-dense nations out there right now, with intense wars and terror organizations taking root there. Of course, this hasn't gone over easily. Protests sparked in airports across the nation Saturday night, as hundreds of refugees were detained from entering the United States — and photos of those "Muslim Ban" protests prove just how angered some have become.
Of course, Twitter was ablaze Saturday night with photos and tweets of the protests, with even Sen. Elizabeth Warren participating in Boston. And while the majority of Trump's executive orders haven't had an immediate, visceral impact, this one did. Many Americans were overcome with a passion to resist, and fight Trump's orders. The American Civil Liberties Union (ACLU) also got involved, and, in fact, won a court case Saturday night allowing immigrants who had already arrived in the United States to be allowed entry (though the staying power of that order is now in question). And this victory, small as it may be in the grand scheme of things, has ignited a fire in many, as thousands of Americans continue to protest Trump, and prepare to #Resist. These photos show just how ready our nation is to #resist:
Perhaps one of the most poignant signs seen in the Tweet above is the one which simply reads: Never Again. The sign is referring to Holocaust Remembrance Day (the day in which Trump decided it would be a good idea to ban thousands of refugees from entering America).
While the immigrants affected by Trump's order were detained at airports across the countries, and lawyers and activists worked tirelessly to fight for their rights, average citizens flocked to arrival gates, ready to welcome immigrants and refugees with open arms.
One of the most populated airports was at JFK Saturday night, where thousands came to protest Trump's immigration ban, and stand in solidarity with all of those affected (which included people who are already green card holders).
Americans, and people from across the globe, were (and are) so outraged by Trump's actions, that many started to make the argument that this was, in fact, counterproductive.
Trump's latest actions have proven that he will, in fact, do everything in his power to act on all those promises he made on the campaign trail. And, honestly, the fact that this is only the beginning, is a scary concept. Thankfully, it seems Americans and their international neighbors are more than happy to push back.