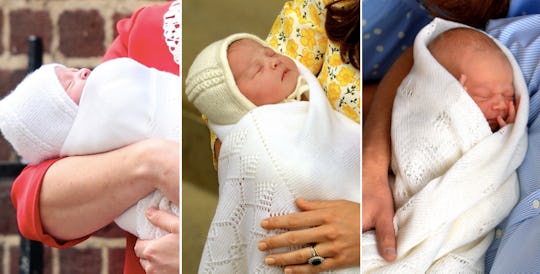 Chris Jackson/Getty Images Entertainment/Getty Images/ WPA Pool/Getty Images Entertainment/Getty Images
Photos Of The New Royal Baby Vs. Prince George & Princess Charlotte Are Too *Cute* To Compare
There's a new prince in town. On Monday, Prince William and the Duchess of Cambridge, Kate Middleton, welcomed their third child. The baby is a boy, something they had chosen to keep private for the duration of Middleton's latest pregnancy. Now that the new baby has finally arrived, it's only natural that people have started to compare him to the other royal babies, and looking at photos of the new royal baby vs. Prince George and Princess Charlotte is one thing royal family fans are doing to celebrate the birth of the latest little member of the British royal family.
It's always super exciting when the royal family welcomes a new member, whether it's through marriage or the birth of a child. Even though it really doesn't impact anyone outside of the United Kingdom, even people over here in the United States get excited about royal weddings and births. When Prince George was born in 2013, he was the first baby Prince William and Middleton welcomed, and officially became next in line to the throne behind his father and grandfather. So it was all new to both the family and followers of the royal family.
Then Princess Charlotte came along in 2015, and made history. Thanks to the Succession to the Crown Act of 2013, the line to the throne is now determined by birth order, instead of sex. That means that even though Princess Charlotte just got a baby brother, her place in the line of succession has not changed.
Both Prince George and Princess Charlotte were very cute babies, and their lives have been photographed practically since the moment they were both born. That means people have plenty of opportunities to compare photos of the newest royal baby to photos of Prince George and Princess Charlotte when they were born.
Royal Baby #3
Princess Charlotte
Prince George
Fans of the royal family have had the amazing opportunity to watch both Princess Charlotte and Prince George grow up, and now, we all get to watch this newest little royal do so, too.
People always seem interested in just how much siblings look alike — I know whenever I'm with my siblings, people seeing us together for the first time often comment on just how similar we look. But that interest is arguably even greater when it comes to famous families, and the British royal family is no different.
So it really shouldn't come as a surprise that people are interested in comparing photos of the newest royal baby to Prince George and Princess Charlotte — they're some of the most famous and most photographed young siblings in the world, after all.
There is one way we know for sure that all of the royal babies of Prince William and Middleton were alike from birth — they all had very similar birth weights. The new baby weighs 8 pounds, 7 ounces, according to the official Kensington Palace twitter account.
That makes the newest royal baby the heaviest of Middleton's babies at birth. Prince George weighed just a little less than his younger brother, coming in at 8 pounds, 6 ounces, according to Hello! Magazine. Princess Charlotte, on the other hand, weighed 8 pounds, 3 ounces.
Those are all super healthy birth weights. Prince George, Princess Charlotte, and this new baby all had very healthy starts in life, which I'm sure is a huge relief to their royal parents.
Whether this baby is ready for it or not, he's likely going to spend his whole life heavily photographed. It's something everyone in the royal family has had to get used to, and the fact is, the younger royals don't always look picture perfect.
There are probably plenty of parents out there who can relate to the reality that sometimes, your kids aren't going to cooperate for the camera — they just don't have to deal with it on the international scale that Prince William and Middleton do with their kids.
But in general, people give the little royals a pass. They are still children, even if they are also heirs to the British monarchy, and kids sometimes act up. Hopefully, people will be just as kind to this newest royal baby. For now, British citizens and other fans of the royal family are just excited to welcome the newest little prince and for any photos they can get of him for now.
Check out Romper's new video series, Bearing The Motherload, where disagreeing parents from different sides of an issue sit down with a mediator and talk about how to support (and not judge) each other's parenting perspectives. New episodes air Mondays on Facebook.