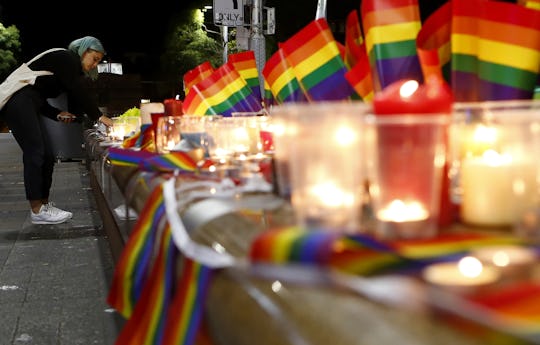 Daniel Munoz/Getty Images News/Getty Images
Photos Of The Orlando Victims Are An Important Reminder To Honor Their Lives
People throughout the country and the world have heavy hearts today, as the identities of the victims of the mass shooting in an Orlando nightclub Sunday are being made public. Heartbreaking stories of friends and loved ones who were trapped in the club while a lone gunman killed 49 innocent people with an assault rifle are all over the Internet and social media, and even though they may be hard to look at given the sadness they now represent, photos of the Orlando victims are an important reminder that they deserve to have their lives honored, and their names known, instead of focusing solely on the terrorist act of one awful human being. The Associated Press spoke to family and friends of some of the victims to share their stories, and coupled with photos shared by outlets like BuzzFeed, People, and countless individuals on Twitter, we can all try, even in a small way, to pay tribute to those who died in the deadliest mass shooting in U.S. history.
While not all of the victims' names have been revealed as of yet, an updated, official list of names and ages of those who were killed at Pulse nightclub (and whose families have been notified) can be found on the City of Orlando website. It will continue to be updated as new information becomes available.
"One Of The Greatest Guys"
At only 20 years old, Luis Omar Ocasio-Capo is one of the youngest victims identified so far. According to the Associated Press, he worked as a Starbucks barista, and was described by a co-worker as someone who "got along with everyone. Young, old, male, female, gay, or straight, it didn't matter to Omar."
It's a similar sentiment that many people are sharing about the people they knew who died in the Pulse shooting. A friend of Edward Sotomayor Jr., 34, told People, "he was one of the greatest guys I've ever met. He touched so many people's lives...He would do anything for anybody." And a friend and coworker of 22-year-old Luis Vielma, a student who worked a Universal Orlando's Wizarding World of Harry Potter, has been described as "always a friend you could call. He was always open and available," according to the Associated Press.
"He Was A Great Dad"
Xavier Emmanuel Serrano Rosado, 35, was a professional salsa dancer, and a father of a 5-year-old son, according to People. One friend described him as "a great, great father," while another wrote, "my heart aches for his family and Wilma Lozano and their beautiful baby boy," according to BuzzFeed.
While Amanda Alvear, 25, wasn't a mother, she did play a very important role in one child's life: her sister chose her to be the godmother of her baby. Ashley Velez left a tribute for Alvear on Facebook after she learned of her death, writing, "The best godmother anyone could ever ask for. RIP Amanda Alvear. You will be missed my angel. I love you."
"Having A Great Time On Vacation"
According to BuzzFeed, Brooklyn-native Enrique L. Rios Jr., 25, visited Pulse while on vacation in Orlando this week. His mother called him "a good kid," while his cousin described him as having "a heart of gold."
Similarly, Kimberley Morris, 37, was also new to Orlando, having just taken a job as a bouncer as Pulse a few months ago. Friends told the Associated Press that Morris was "thrilled to get more involved in the LGBT community there," and described her as always having a smile on her face.
"He Was So Proud Of Who He Was"
While 23-year-old Stanley Almodovar III was enjoying a night out at Pulse, his mother was at home making him a tomato-and-cheese dip for him to eat when he got home that night, according to the Associated Press. Later that night she learned of the shooting, and eventually, received confirmation that her son had been killed.
The stories of the victims seem to be endless, full of smiling photos and loving words from family members and friends about their kind hearts and bright futures. And while it's hard to do justice to those stories, to let everyone know what a huge loss it is now that they are no longer here, it's still important to try and remember that their lives mattered so much to the people who loved them, and who are now left to pick up the pieces as a result of this senseless act of violence and hatred.