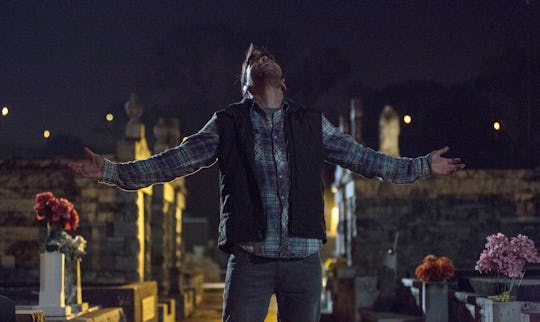 Michael Becker/FOX
Photos Of 'The Passion' Cross In New Orleans Were The Most Powerful Images Of The Night
On Sunday night, Fox hosted a powerful two-hour live musical event following the final days of Jesus Christ and set in modern-day New Orleans. And, in a departure from the popular live musicals Fox and other channels have put together in recent months — think: The Wiz, Grease! Live, and Peter Pan — the city itself played an important role in the Fox production. For example, a procession of hundreds carried a 20-foot illuminated cross through the streets of New Orleans — and once photos of The Passion cross in New Orleans hit the Internet, it was clear that it was the most creative and powerful image of the night.
The musical starred big names such as American Idol's Chris Daughtry, Seal, and Trisha Yearwood, and Tyler Perry narrated/hosted. Of course, the fact that a Christian-based story was aired live on primetime TV didn't sit well with everyone. Reactions on Twitter were mixed, but most people could get down with the musical numbers or the fact that the performances were taking place in New Orleans.
Also, many people on Twitter shared images of the illuminated cross being carried through the city, and it certainly seemed to inspire hope in those who are moved by Biblical images or stories.
Sure, not everyone in the U.S. identifies as Christian or even as religious, but images of the illuminated cross being carried through crowds of people were beautiful.