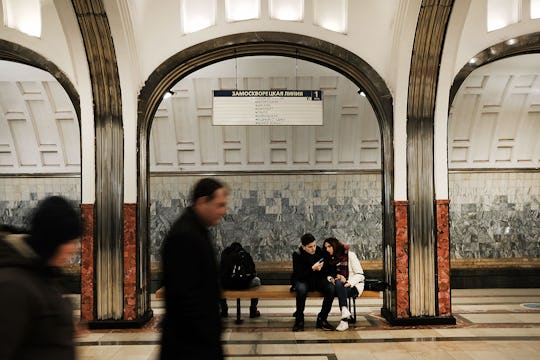 Spencer Platt/Getty Images News/Getty Images
Photos Of The St. Petersburg Metro Explosions
An explosion in St. Petersburg, Russia, Monday has left at least 10 people dead and many more injured after an explosive device was detonated on a train traveling between the Sennaya Ploshchad and Technology Institute metro stations, according to Reuters. Photos of the St. Petersburg metro explosion have been shared on social media by those at the scene, showing the chaos as the public continues to await further details.
Following the blast, authorities closed all metro stations in St. Petersburg, and the Moscow metro also indicated that it was upping security measures. In a live stream shortly after the incident, Russian website Life News said the explosion occurred at about 2:30 p.m. local time, according to The Guardian, though Russian officials have yet to comment on the specifics. Russian President Vladimir Putin was in St. Petersburg Monday for a meeting with Belarussian leader Alexander Lukashenko, according to Russia Today, and in a statement following the blast, Putin said an investigation was underway:
The causes of this event have not been determined yet, so it's too early to talk about [possible causes]. The investigation will show. Certainly, we will consider all variants, common, criminal, first of all, of a terrorist nature.
Though the motive behind the St. Petersburg attack is still to be determined, The Telegraph noted that the fact that the location of the blast — the Sennya Square — happens to be a busy transportation hub in Russia's second-biggest city likely made it a more attractive target. According to Reuters, separatist extremist Chechen militants, as well as ISIS, have threatened attacks in Russia in recent years, due to the country's military intervention in Syria in support of Syrian President Bashar al-Assad. No group has yet claimed responsibility for the St. Petersburg attack, however.
Though Russia's involvement in Syria may have increased the threat of terrorism in the country, tensions over a extremist separatist movement claiming the name of Islam in Chechnya are not new. According to Reuters, then-Prime Minister Putin launched a campaign against separatists in 1999, and has maintained his hardline stance ever since as President. And although it's not clear whether the St. Petersburg attack was terrorist in nature, if it were, it wouldn't be the first time such an attack has occurred in recent years.
According to The New York Times, in February 2004, an explosion inside a train at the Avtozavodskaya station in Moscow left 39 dead, and in September 2004, another suicide bombing at a Moscow metro station killed nine people. In March 2010, two female, pro-Chechen separatist suicide bombers killed at least 38 people in attacks on metro trains in Moscow, and according to BBC News, a suicide bomber also killed at least 35 people and injured more than 100 at the Domodedovo airport in Moscow in 2011.