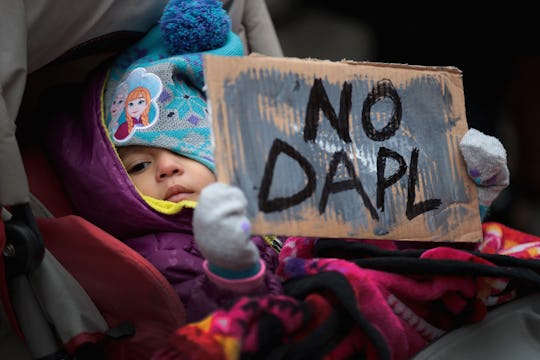 Scott Olson/Getty Images News/Getty Images
Photos Of The Tense Scene At Standing Rock
One of President Donald Trump's first big moves in office was a memorandum green-lighting continued construction of the Dakota Access Pipeline. The proposed pipeline, which protesters claim would harm the drinking water of the Standing Rock Sioux Reservation population and destroy sacred grounds, had been halted by President Obama late last year, as its environmental impact was still considered relatively unknown. However, Trump has made the pipeline a reality once again, and North Dakota Gov. Doug Burgum recently signed an order forcing activists and native protesters to evacuate the area by Wednesday at 2 p.m. However, as the time for evacuation drew near, tensions between protesters and police grew, and these photos of the Standing Rock forced evacuation show just how strained the subsequent, drawn-out stand-off has become.
According to The New York Times, "the Army Corps of Engineers and North Dakota's governor had ordered that the largest protest camp — which sits on federal land — be cleared by Wednesday afternoon because of concern the Missouri River would flood." Even though a majority of the protestors left the encampment quietly, some remained, with authorities beginning to make arrests in order to clear the area on Wednesday night.
Despite the perceived threat, protestors appeared prepared to stand their ground, and the many pictures from the escalated stand-off and forced evacuation flooding Twitter and social media at the moment only serve to prove that the resistance is still strong:
According to livestreams and social media feeds of the site, protestors were still present as of Wednesday evening, though at least a handful of arrests were made. It's unclear currently how many have been arrested, or whether the stand-off between activists and police will remain peaceful, but it is clear that Standing Rock protestors aren't going to give up without a fight.
As the protestors against the Dakota Access Pipeline have been working to stop construction for months now, it's understandable that they would be passionate about the pipeline today, despite orders to evacuate the area. The New York Times also reported that "North Dakota officials have offered meals, lodging, a medical exam and a bus ticket to anywhere in the 48 contiguous states for protesters who left by Wednesday afternoon but needed help getting home."
Along with journalists and reporters at the site, however, activists that remained are currently facing clashes with law enforcement and more possible arrests. In past clashes with the police, protestors were subject to tear gas and rubber bullets, and it's unclear whether or not such measures will be taken this time. Hopefully, all those present at Standing Rock will be treated with dignity and respect, and vice versa.