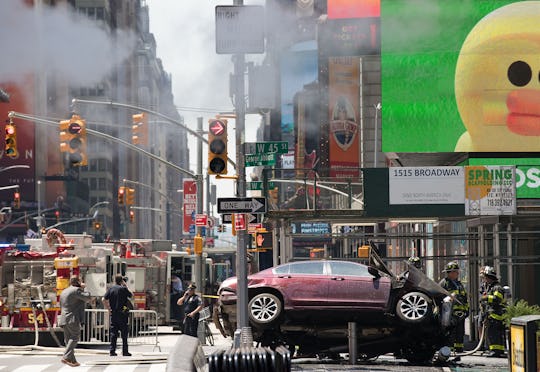 Drew Angerer/Getty Images News/Getty Images
Photos Of The Times Square Crash Show Moment Of Chaos
On Wednesday, a car driving the wrong way for three blocks careened into a crowd of people in Times Square in the middle of New York City. According to an NBC News affiliate in New York, at least one person has died, and at least more than a dozen people have been injured. Photos of the Times Square crash show a chaotic scene as the car plowed through pedestrians at the intersection of 45th Street and Broadway. According to New York Police officials, the driver of the vehicle was a 26-year-old male who attempted to flee on foot after his car crashed into a sidewalk stanchion. The unnamed driver was immediately taken into custody by police at the scene.
The crash occurred shortly before noon local time, during the busy lunch hour in one of the most crowded tourist hot spots in New York City. According to the official Times Square website, as many as 300,000 to 480,000 pedestrians pass through Times Square on any given day. Much of the area is cordoned off from cars to make for a pedestrian walkway, but cars can and do pass through the massive intersection. NBC 4 reported that the car drove in the wrong direction for three blocks before jumping the sidewalk into a crowd full of people.
Once the car came to a stop at West 45th Street, smoke and flames appeared to burst through the roof as the driver fled on foot. New York Fire Department engines responded quickly after the call went out over police radio. As officials investigated the scene, the badly wrecked car could be seen tilting to the side on two wheels, still smoldering. The identities and conditions of the victims have not yet been released.
Meanwhile, bystanders immediately rushed to help victims who were on the ground in the wake of the crash as they waited for first responders to arrive. Once emergency responders arrived, they began treating some victims at the scene as others were loaded onto stretchers and taken to area hospitals.
The New York Police Department tweeted approximately an hour after the incident that the situation was an isolated incident. At a press conference, New York Mayor Bill de Blasio told reporters, "Based on information we have at this moment, there is no indication that this was an act of terrorism."
Police identified the driver of the vehicle as Richard Rojas, a 26-year-old man from the Bronx. Mayor de Blasio noted that Rojas was arrested previously for two drunk driving incidents, according to Reuters. Romper could not immediately reach Rojas for comment. Officials also provided updates on the victims's information, including that an 18-year-old woman was killed, and another 22 people were injured.