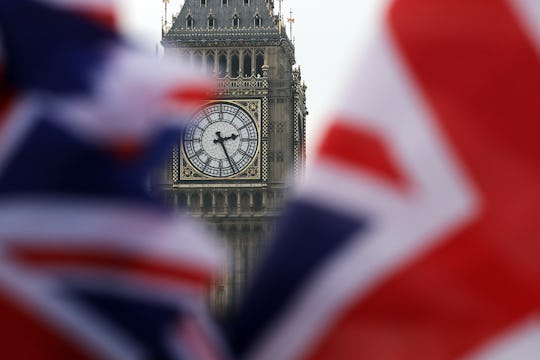 Dan Kitwood/Getty Images News/Getty Images
Photos Of The UK Parliament Lockdown Are Tense
On Wednesday, the Parliament Building in London was placed on lockdown following reports of gunfire and other incidents of violence both inside and outside of the building just before 3 p.m. local time. Word of the incidents spread quickly over social media, as images and videos of what appear to be multiple incidents that took place at Parliament. Photos and videos of the U.K. Parliament Building lockdown show a variety of terrifying scenes, including a live stream of parliament members in session when the gunshots were heard.
Update: According to the Associated Press, British police late Wednesday evening raised the death toll in the Parliament attack to five. At least 40 people were injured.
Other witnesses on the scene also reported across social media the sounds of gunfire, as well as bodies on the Westminster Bridge outside the building. Photos from the scene reveal a car crashed into a gate on Westminster Bridge in front of Parliament. The Associated Press said on Twitter that London police are treating the Parliament attack as "a terrorist incident until we know otherwise." BBC News has reported that a police officer had been stabbed in the Houses of Parliament by an alleged assailant, who was then shot by armed police. They also have reported that U.K. Prime Minister Teresa May is "OK" according to sources at Downing Street, the prime minister's office in London.
Immediately following the incident, announcements over Parliament loudspeakers told everyone there to remain in place. Multiple witnesses from inside the building reported on social media they were instructed not to take photos by police.
One witness described what he saw to the BBC, saying he heard a "bang bang bang" of loud shots.
Traffic around the building was brought to a halt as police vehicles swarmed the area and closed it off.
It helps to have an understanding of the area around Parliament, as the attack spanned multiple areas in and around the actual Houses of Parliament. Incidents occurred on the Westminster Bridge leading up to the Palace of Westminster, railings outside of Parliament, and at the entry to the Parliamentary compound.
One witness captured an image of a car crashed into the railings outside Parliament.
The iconic Westminster Bridge was also closed following an additional vehicle crash where "at least five people" were "mowed down," according to one witness on Twitter. Another witness told Sky News that she saw a "car go out of control."
Access via public transportation to the area has also been shut down. The Westminster subway station outside Parliament has been closed at police request.
U.K. Metropolitan Police have asked the public to contribute any photos or videos they may have of the attacks at Parliament on Wednesday.