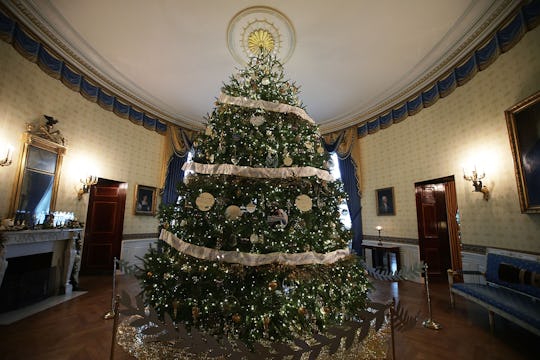 Alex Wong/Getty Images News/Getty Images
Take A Look Back At These Photos Of The White House Christmas Trees Over The Years
Melania Trump's Christmas trees have been the talk of the town during the past two holiday seasons when folks said her décor choices were, at best, cold, or at worst, macabre. But those infamous red trees are just one part of a massive effort to decorate the White House that includes dozens. So as the holiday nears, let's take a look at photos of the White House Christmas Trees over time and see how first ladies have chosen to celebrate the holiday season with personal flair.
Decorating for the holidays has become a big deal for the first family. There is the massive tree for the blue room that arrives by carriage every year, greeted by no less than the president and first lady, according to Vanity Fair. There is the lighting of the National Christmas Tree in the Ellipse by the president, usually joined by a child or two, according to the ceremony's website. And there are the decorations that fill the halls and rooms of the White House, an effort that takes both volunteers and staff members days to complete, according to WhiteHouse.gov.
Here's a look at the totality of the decorations for 2018:
The White House Christmas tree that sits in the blue room has been a tradition since Benjamin Harrison's administration in 1889, according to the White House Historical Association. Not every administration chose to have a tree though, usually owing to the family's presence in the home during the holidays or whether there were children around.
But over the years, there have been some standouts, like these...
President Kennedy's in 1961
Jacqueline Kennedy began the tradition of choosing a theme for the main tree in the blue room. In 1961, she decided on a theme of "The Nutcracker Suite," according to NBC Washington, and the next year she reused some of the ornaments alongside new ones made by disabled persons or senior citizens from across the country.
President Johnson's in 1964 & 1967
For the Johnson administration in the 1960s, Lady Bird first landed on a theme of "Early Americana" for the blue room tree, according to U.S. News & World Report. Ornaments were toy soldiers, fruit and more along with era-appropriate strings of beads. She stuck with the theme later in her time in the White House, choosing 19th century gingerbread houses for a theme in 1968.
President Nixon's in 1969 & 1970
In 1969, Pat Nixon moved the tree from the blue room to the grand foyer, according to U.S. News & World Report. She wanted people passing by on Pennsylvania Avenue to be able to see the tree. In 1970, she decorated using the flowers of each state, according to NBC Washington, alongside gold foil angels and fans. That gold theme carried all the way through until 1973. The family took many photos together in front of it to celebrate the holidays.
President Ford's in 1974 & 1975
First lady Betty Ford went casual in 1974 when she decorated in a "Patchwork Christmas" theme and again in 1975 when she chose paper chains and popcorn strands, according to U.S. News & World Report. That hearkens back to many of our own childhoods trying to string those things together. In 1976, Mrs. Ford went with the theme "Love that is the spirit of Christmas" and decorated with floral elements, according to MNN.
President Carter's in 1977
For her 1977 White House tree, Rosalynn Carter turned to what's known today as The Arc of the United States to have ornaments made, according to Town & Country. In 1978, she kept up with the hometown feel by borrowing toys from the Margaret Woodbury Strong Museum to decorate in a Victorian Christmas theme. For 1979, she celebrated folk art, according the NBC Washington with students at a local school making colonial style ornaments.
President Reagan's in 1985 & 1986
For the first years of her husband's term in office, Nancy Reagan chose an "Early American" theme for the blue room tree, NBC Washington reported. In 1983, she was joined by Mr. T for the unveiling of the decorations, according to Town & Country, who she'd met and befriended as part of her Just Say No campaign. In 1986, she changed things up with a "Mother Goose" theme, including 100 miniature geese made by members of a drug rehabilitation program, as Town & Country reported.
President H.W. Bush's in 1989
In 1989, Barbara Bush turned to her literacy advocacy for inspiration, choosing a "Storybook Theme" for the tree, according to NBC San Diego. In 1990, she elected a "Nutcracker Suite" theme and in 1992, she went with a theme of gift givers, decorating with cultural figures around the world who are said to leave children presents.
President Clinton's in 1993
Hillary Clinton chose a simple angel theme for the White House tree in 1993 with what she called a mix of classic and funky ornaments, according to Town & Country. For 1994, she went with a popular choice among first ladies and had artisans and school children create the ornaments for the tree, according to MNN. She also used themes of the "Night Before Christmas," "Santa's Workshop," and "Holiday Treasures," according to the Washington Post.
President W. Bush's in 2005
"Home for the Holidays" was the theme of Laura Bush's first tree and featured ornaments by artists from each state, according to NBC Washington. In 2003, she reused ornaments from her mother-in-law's 1989 tree, based on the theme a season of stories, according to U.S. News & World Report. For 2005, she went with the concept of a children's hymn called "All Things Bright and Beautiful" and highlighted the natural world on the tree
President Obama's
For Michelle Obama, she decided to keep things simple, literally. Her theme in 2010 was "simple gifts" and the tree was decorated with ornaments from each state and territory, according to U.S. News World & Report. For 2011, she chose the theme "Shine, Give, Share" and used ornaments that honored the armed forces, including framed service medals. She subsequently kept ornaments that recognized the military on the tree in 2012 and 2013. For 2014, she went with the concept of a "children's wonderland" and then in 2015 the tree was red, white, and blue, according to NBC San Diego
President Trump's
For Melania Trump's first Christmas in the White House, she chose a simple theme that honored each of the states and territories of the country with ornaments featuring their seals, according to NBC Washington. And 2018's tree is a theme of "American Treasures" and includes over 500 feet of gold-trimmed blue ribbon, according to the Washington Post.
Needless to say, the White House has seen many different types of styles of Christmas trees over the years and through each administration.