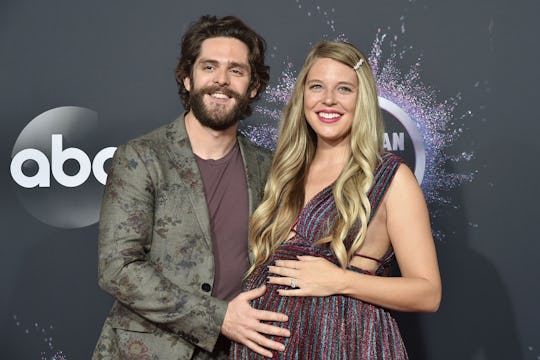 David Crotty/Patrick McMullan/Getty Images
Please Enjoy These Ah-dorable Photos Of Thomas Rhett With His Kids
Thomas Rhett is more than a beloved country music superstar and Grammy Award nominee — he's a loving hubby and devoted dad of two, soon-to-be three. And looking through photos of Thomas Rhett with his kids, it's clear that being a family man is perhaps his favorite title of all.
Rhett and his wife Lauren Akins are currently expecting their third daughter together, who's due on Feb. 3, almost one week after the 62nd Grammy Awards. This year, Rhett is nominated in the Best Country Album category for Center Point Road. While it's still TBD on whether his wife and daughters will join him at the 2020 Grammys on Sunday night, the family of four did walk the red carpet together at the 2019 CMA Awards, so fingers crossed they do so again. After all, Rhett's two adorable daughters — Willa, 4, and Ada, 2 — did steal the show as his dates.
The country music super star often gushes about fatherhood, having been open about his and Akins' journey to adopting Willa from Uganda in 2017 and welcoming Ada into the world shortly after. And when you look through photos of him with his two daughters, it's abundantly clear that family means the world to him.