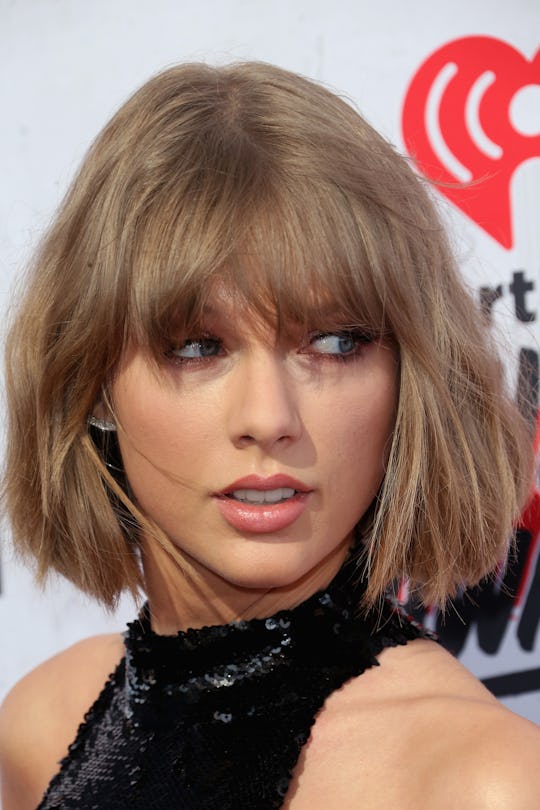 Frederick M. Brown/Getty Images Entertainment/Getty Images
Photos Of Tom Hiddleston & Taylor Swift Together Are Your Summer Rebound Goals
Just a few weeks after her much-publicized break up with Calvin Harris, new photos of Tom Hiddleston and Taylor Swift are proof that young love exists and rebounds are very, very real. This week, the pair were spotted outside of her mansion in Watch Hill, Rhode Island, walking the beach, looking longingly into each other's eyes, and basically being a Taylor Swift music video. It's good stuff all around. I mean, seriously. Swift is actually — even though she's been known to croon about heartbreak and happy couple stuff — pretty private when it comes to her romances.
So if you want more pictures of her and new beau, you have no one to blame but every snarky jerk on Twitter making fun of her every time she gets a new one. She's obviously lived and learned. The most recent pics of are of her and Hiddleston, 35, hanging out, looking like a J.Crew ad. It's too perfect for two reasons.
The first being, I want a mansion on a beach where I can walk around in cute pullover sweaters and jean shorts with an inoffensive looking white guy? Secondly, what is this stellar response time on a rebound? I can barely get a message back on Tinder that isn't an unsolicited image of someone's genitals. Oh, to be single and be T. Swift.
Even better? Her ex, DJ Calvin Harris seems to be doing just fine about the new fling. A source told People that he is "aware" that she is currently taking selfies on a jetty by the beach with Hiddleston and that he just wants her "to be happy." That being said, they've apparently unfollowed each other and deleted old vacation pics they tagged each other in. You can't just go beach hopping with every dusty blonde in Hollywood, Taylor, and not expect some hurt feelings.
I mean, what else can you say to this love-fest? But apart from the fact that they are clearly taking selfies at the beach, there are no pictures on her social media accounts or anywhere else to be found of these two. This was a sneak attack by paparazzi — and as much I respect everyone's privacy, I really want to know what else these guys did at the mansion. Who else was there? What did they grill? How many pools?
No, really, how many pools does Taylor have in this mansion compound? Inquiring minds must know. For now, we will just have to content ourselves with the glorious dance-off videos from the Met Gala, where it looks like the two hit it off to being with. This is not going to be forever (or what if it is? That's cool, too!), but I do hope it doesn't go down in flames right quick, because I need some more Northeast beach love pics stat.