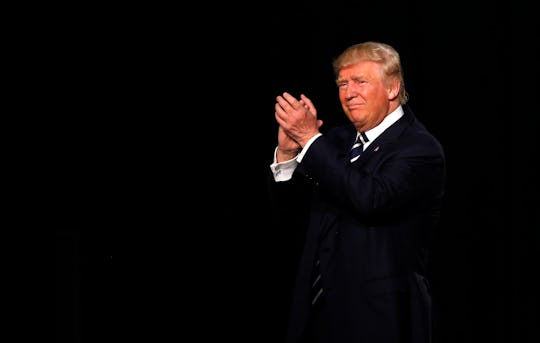 JEFF KOWALSKY/AFP/Getty Images
Photos Of Trump Voting in Manhattan Show It Was a Total Election Day Circus
Donald Trump ended his presidential campaign by stopping at his New York polling location and casting a vote for himself. Fitting. But the scene was anything but presidential. Protesters, including topless feminists, were out in force and Trump was met with loud boos and jeers from the street. Here are photos of Trump voting in Manhattan that show a total Election Day circus for the candidate and his fellow voters.
He started the day with an early morning interview on one of his favorite talk shows, Fox & Friends, where he was able to squeeze in one last rambling word jazz riff on his candidacy and campaign. "Well, I've really worked on this hard," Trump joked when asked if he'd made a decision about who to vote for, according to Politico. "But I have made that final decision, yes. I've decided to vote for Trump.
And that little joke probably would have been funnier had the candidate not dragged the entire country, and our centuries-old democracy, through a brutal campaign based on based on anger, allegations of racism, violence at his rallies, and at times, outright lies.
The best way to Make America Great Again is to end this once and for all. "Well, it's very exciting," Trump said Tuesday morning on Fox about Election Day. "You know, I've spoken to you folks for a lot during our very successful primaries. Oftentimes, every single one I was speaking to you in the morning so I'm a little bit superstitious. So when you said please call, I said I'll call. But I won many primaries speaking to you first thing in the morning so I'm gonna keep that string going."
Such a guy. Here's a look at the new trucks lined up waiting for the presidential candidate to show up and cast a ballot at his Manhattan precinct.
Once he arrived, Trump was met with protesters both outside and inside the polling location. These topless protesters were removed from the polling place, according to the New York Daily News.
Here's video from CNN of Trump arriving to vote in Manhattan with wife Melania and daughter Ivanka.
This video shows Trump getting loudly booed as he walked into his polling place.
Here's an account of people on the streets of New York yelling at Trump.
You have to feel sorry for Manhattanites unfortunate enough to share a polling place with Trump. It looks like an Election Day circus came to the neighborhood.
DC Examiner reporter Gabby Morrongiello pointed out Trump displayed behavior at the polling place that showed he might not have a lot of experience with this whole voting deal.
Here's Trump voting in front of a sign that reads "DANCE PARTY."
And apparently Trump's trip outside of the polling place was just as uncomfortable as the walk inside.
Now that voting is complete, NBC reporter Hallie Jackson tweeted that Trump plans to host an afternoon party and fundraiser with supporters.
Probably not the way the candidate hoped to cast a vote for himself, being hailed with insults from the haters. Let's see if Trump's fortunes can turn around as the returns start to roll in later on Election Day.