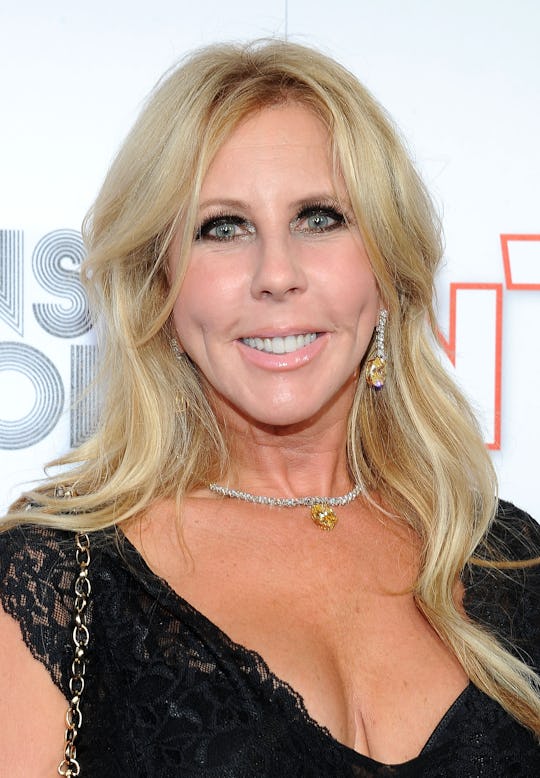 Valerie Macon/Getty
Photos Of Vicki Gunvalson & Her Grandsons Show She's A Very Happy Nana
Vicki Gunvalson is many things. She is an entrepreneur and owner of her insurance company, Coto Insurance. She is the original Real Housewife, as the only Housewife to have participated in every season of the franchise since its inception. She is mother to breath of fresh air, Briana, and frenemy to all her co-stars. She is also grandmother, or "Nana" to her two adorable grandsons, Troy (4) and Owen (2). Photos of Vicki and her grandsons show that being grandma is one of Vicki's favorite job.
We've seen poor Briana deal with some pretty serious health concerns this season on The Real Housewives of Orange County. Enlarged lymph nodes had grown to such a size that they actually put so much pressure on her lungs that she couldn't breathe. While she was being treated in the hospital, Nana Vicki took care of Troy and Owen, as the family has just moved back to California and is living with her at the moment. While Vicki obviously has some experience in caring for children, (just look at how great Briana turned out!), the two little boys running around might just wear her out. In the show, Vicki is seen lamenting the fact that she can't just put them in the playpen where they could stay safe, and at least somewhat out of her hair.
When The Real Housewives of Orange County started, little Troy and Owen weren't even a twinkle in their mother's eye (such a strange phrase, by the way), and now they've become characters in their own rights.
Vicki recently bought Briana and her family a house in California, so that they could be closer together, especially important considering Briana's recent health troubles. Unfortunately, Briana's husband Ryan was still stationed in Oklahoma and couldn't make the road trip with them.
The little guys look just like their parents. Do I detect a hint of Vicki in Troy's grinning face?
These lucky boys get to go on lots of trips to Disneyland with Nana and mom. As Vicki captioned this picture, "'The happiest place on earth' is Disneyland with my family."
Clearly, living so far from each other was hard for Vicki and for Briana and the boys. Luckily, the family is back together again.