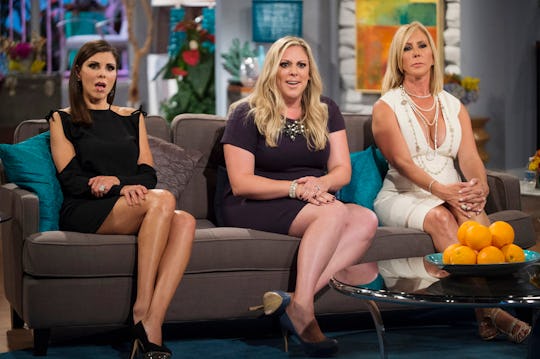 Nicole Weingart/Bravo
Photos Of Vicki Gunvalson's Daughter Briana Show She's Happy To Be Back In The O.C.
Vicki Gunvalson's daughter Briana Culberson has always been a nice addition to The Real Housewives of Orange County even if she's never been an official Housewife. She always served as a nice, rational contrast to her somewhat over the top mother. Briana's appearances aren't regular, but fans have followed her life over the years and seen her grow up, become a nurse, get married, and have children. Now that Briana and her husband Ryan have returned to Orange County, fans are sure to be seeing a lot more of her on RHOC. And these photos of Briana and her family show how close the family has been now that she's back.
Briana and her mom have had issues throughout the years, particularly when it came to Brooks Ayers, Vicki's controversial ex. Briana lived in Oklahoma with her family because that's where Ryan was stationed (he's a Marine), but distance didn't help the problem; even when Briana would return to the O.C. for visits she didn't want her family in the same house as Brooks. It was putting a wall up between mother and daughter, but now that Brooks is out of the picture, things seem to be going well again. Briana and Ryan look very happy to be back in Orange County.
Briana's Instagram is private but she and her family show up plenty on Vicki's. It looks like now Vicki is spending a lot of time with her grandchildren, and Briana and Ryan are probably glad to have the extra support. Luckily, Briana even likes Vicki's new boyfriend Steve Lodge, which is no small victory considering all the drama that went down about Brooks. Vicki told Us Weekly that Briana and Steve are really close: "They do wine night together when I'm working or traveling. She calls him and says, 'Steve, are you coming over?' It's so funny!"
Aside from Vicki's ex being out of the picture (a definite improvement), the Culbersons have been dealing with some other issues over the last few years that appear to be be improving if their happy social media presence is anything to go by. Ryan has struggled with PTSD after his tours in Afghanistan, and Briana faced a cancer scare, but now they seem to be doing much better. Ryan has since sought help and a biopsy proved Briana is cancer-free.
It certainly seems like things are looking up in the Gunvalson-Culberson clan.