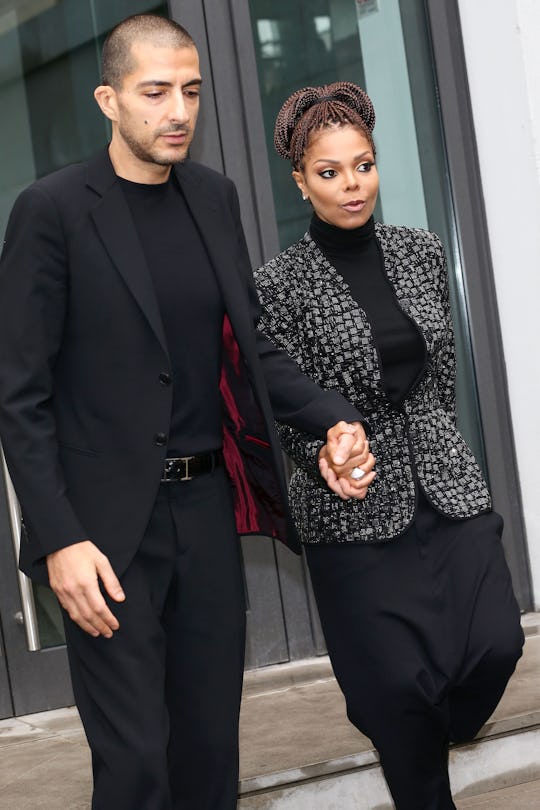 Vittorio Zunino Celotto/Getty Images Entertainment/Getty Images
Photos Of Wissam Al Mana & Janet Jackson Show Their Baby Will Have A Strong Support System
Janet Jackson and her billionaire husband Wissam Al Mana don't seem to seek out the public eye, but when news broke that at 50, Jackson, one of the original princesses or pop music, was having a baby, her fans went wild. And while Jackson has kept quiet about the due date or any other details, she was seen with Wissam out in London recently looking like her baby could come at any minute. So to celebrate the couple and their new bundle of joy on the way, here are a few pictures of Wissam Al Mana and Janet Jackson together and in love.
Jackson and Al Mana married in 2012. Al Mana is a Qatari businessman and billionaire who runs an empire consisting of 55 companies ranging from media and real estate to fashion, according to People.
The couple, by all appearances, are as intensely in love as they are private. In an interview with Harper's Bazaar Arabia before their wedding he said "I'm fortunate enough to be dating my dream woman," according to People.
But it was last April when Jackson released a video message to her fans announcing she would need to delay the rest of her tour because, she said, "my husband and I are planning our family," according to ET Online.
It was her brother, Tito, who ultimately confirmed the pregnancy, according to UPI:
Janet is very well pregnant. She's doing very well. She's taking it easy. As you know, she's off tour. She's protecting her health. I couldn't tell you [when she's due], but I know she's hoping for a healthy baby. She doesn't know what she's going to have -- a boy or a girl -- but she just wants a healthy baby.
Since then she's been put on bed rest on the advice of her doctors, but UPI reported the singer still gets out occasionally to run errands or take her mother to lunch. She was spotted out with her husband in London at the end of September looking very pregnant, indicating the baby could be due anytime.
Al Mana has expressed his belief in the importance of family and credits his own with much of his business success. He told Entrepreneur, according to People:
My father passed away when I was quite young, and I felt that it was my duty to kind of pick up the flag and to continue the business, and try to continue the legacy and the family name. It's in our blood, we're merchants. When I was a child, I looked at my father's passport and his occupation said 'Merchant.' I asked my mom, and she explained that we are merchants. We take pride in that, it's our heritage.
There's no doubt that, between the Al Mana and Jackson empires, this baby has some very special lineage and heritage. In the meantime, fans all over the world are excited to get a glimpse at the newest Jackson and wish Janet all the happiness in the world.