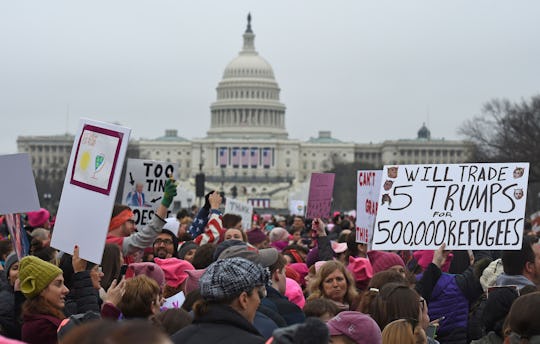 ANDREW CABALLERO-REYNOLDS/AFP/Getty Images
The Women's March Reaches A Global Scale
Many expected that cities around the country would join in with the Women's March on Washington. The usual suspects — New York City, Boston, Los Angeles — all held rallies of their own, but functions didn't stop there. Not only did smaller American cities join in, but cities on the opposite side of the earth stood in solidarity, too. Photos of women's marches around the world show that women's rights are a universal issue, one that other countries are willing to stand fight for, as articulated in the Women's March's mission, which reads:
We stand together in solidarity with our partners and children for the protection of our rights, our safety, our health, and our families - recognizing that our vibrant and diverse communities are the strength of our country.
These so-called "sister marches" around the world offered opportunities for protestors to gather together, carrying signs and chanting against the newly-inaugurated president. The estimated 673 women's marches drew unexpected crowds on every continent; Washington, D.C. alone attracted over half a million marchers which, many are eager to note, greatly outnumbers the crowds present at Trump's inauguration that was held the day prior.
The images below represent many — but by no means all — locations that hosted marches on Saturday. These cities offered places for the promotion of human rights, ultimately sending a strong message of unity.
Across the United States, marchers walked
London, England drew crowds
As did Melbourne, Australia
Signs were hoisted in Paris, France
As was the case Berlin, Germany
Mexico City, Mexico joined in
As did Stockholm, Sweden
Lilongwe, Malawi marched along
Tokyo, Japan gathered together
Protestors in Antarctica made their voices heard, too
"It's an opportunity to come together, to grieve and then to turn that around to celebrate unity," Kimberly Espinal, an organizer of the London march, shared with The Washington Post. London Mayor Sadiq Khan was also present at the event. In a statement, Khan asserted: "As a feminist in City Hall I fully support the fight for gender equality," noting that "it's wrong that in 2017 someone's life chances and fundamental rights are still dependent on their gender."
Spanning across continents, protestors appear to feel the same way. As Sydney, Australia marcher Anna Glen shared with the Sydney Morning Harold:
Women's rights isn't where we would like it to be, and Trump being elected feels like a step backwards for us. We are here to support America and also women's rights more broadly and show strength.
By and large, the shown strength in international numbers subverts the bleak worldview that was painted by Trump's inauguration speech. Despite his insistence that our country is divided, on a worldwide scale, things appear to be pretty unified.