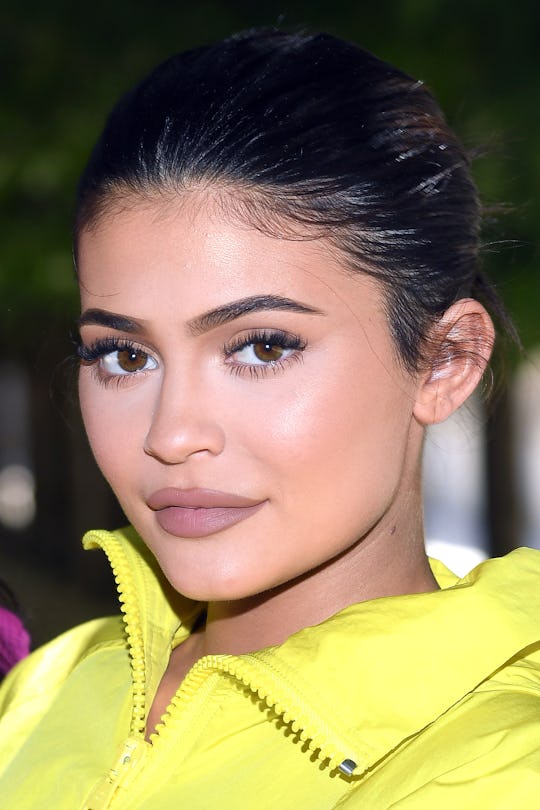 Pascal Le Segretain/Getty Images Entertainment/Getty Images
The Pics & Videos From Kylie Jenner's 21st Birthday Bash Will Give You Major FOMO
The youngest member of the KarJenner camp turned 21 on Friday, August 10, and she celebrated in true KarJenner style. There are a whole lot of epic photos and videos from Kylie Jenner's 21st birthday party floating around on social media, and it looks like it was a total blast. Kylie and her sister, Kim Kardashian West, both went with a pink theme for their birthday party outfits, but everyone in attendance looked truly stylin' at the event.
Turning 21 is obviously a huge milestone, and as the youngest Kardashian/Jenner sister, there's no way Kylie was going to let the occasion pass without doing something really memorable to mark it. She made at least one outfit change during the party, and there was even "a ball pit with heart-shaped floaties," according to Elle. Who says a good ball pit can only be a feature of a kid's party?
And if Kylie doesn't remember much of the party where she became legal to drink in the United States, that's OK, because there's plenty of photographic and video evidence of the event to help her remember. It seems like everywhere you turn on social media, there's another photo or video of Kylie's birthday, and it's clearly something she's going to look back on fondly for years to come.
It sounds like Kylie actually started celebrating her birthday a little early, which I fully endorse as someone who believes in a good birthday season.
But the best photos really started making their way to social media on Thursday and Friday, after the big birthday event on Thursday night.
It looked like just about everyone important in Kylie's life was at the party. Her sisters — Kim, Khloé Kardashian, Kourtney Kardashian, and Kendall Jenner — were all there, just for starters.
Kylie's boyfriend, Travis Scott, and her brother-in-law, Kanye West, were also in attendance.
And what parent would want to miss their daughter's big birthday bash? Kris Jenner and Caitlyn Jenner were also seen at the event.
All the Kardashian and Jenner daughters are old enough to drink now. Kylie's sister, Kendall, is just a bit older than her at 22, and is celebrating her own birthday in November.
Besides family, a whole lot of other famous faces showed up at Kylie's birthday party. Kourtney's ex, Scott Disick, was there, for instance.
Kris' boyfriend, Corey Gamble, Caitlyn's friend, Sophia Hutchins, Kendall's ex, Blake Griffin, and Nicki Minaj also made appearances, according to People.
Bella Hadid, The Weeknd, and Dave Chapelle were also reportedly in attendance, People reported. If you scroll down, you'll see a video allegedly from Kylie's party that shows Bella and The Weekend posing with Kylie's sister, Kendall, and more of their friends.
Kylie's birthday celebration began with dinner at Craig's in West Hollywood, E! News reported. The outlet reported that the theme at Delilah later that night was pink and gold, which is pretty clear from the many photos and videos from the venue.
Kylie was born on August 10, 1997, in Los Angeles, California, according to Biography.com. She is the youngest of all the Kardashian and Jenner kids, so it stands to reason that they all wanted to really go all out for the last big 21st birthday celebration among all the siblings.
It looks like everyone had a really amazing time Thursday night, but the birthday girl seemed to especially enjoy herself.
The one extremely important person in Kylie's life who (understandably) stayed at home was her daughter, Stormi. But a 6-month-old probably wouldn't have had much fun out at a loud birthday bash late into the night, anyway.
However, Kylie did share some new photos of her daughter with her fans and social media followers on Instagram, one day before her birthday. Kylie captioned one of the photos, "bringing in my birthday tonight with my most special gift. What was life before you, Stormi. I love you my little angel."
Clearly, Kylie's 21st birthday was a very special day, for a whole lot of wonderful reasons.