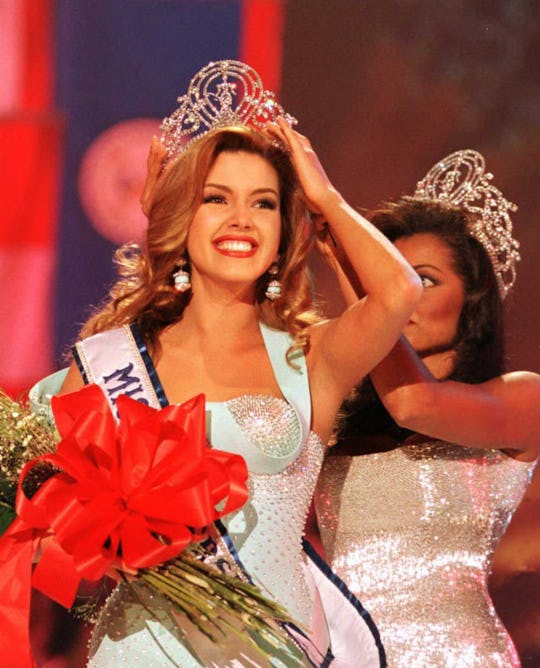 AFP/AFP/Getty Images
Photos & Videos Of Alicia Machado As Miss Universe Show Machado Before The 2016 Election
Everyone across the nation was introduced (or re-introduced) to Alicia Machado this week — a former Miss Universe who was brought up at the first presidential debate on Monday night. Hillary Clinton used Machado as an example of how harsh Trump's words can be — as Machado claims that Trump made some offending comments about her weight and called her "Miss Piggy." But photos and videos of Alicia Machado as Miss Universe just 20 years ago show that she was just a normal woman from Venezuela who did not foresee her political future — or the fact that she would face Trump's scrutiny.
Machado was only 19-years-old when she won the title of Miss Universe 1996, after being crowned Miss Venezuela in 1995. Machado was the fourth woman from Venezuela to win the title of Miss Universe at the time — more than any other country next to the United States. In the year after winning the Miss Universe title, Machado made a countless number of public appearances and did not stray far from the public eye. According to a 1997 The Washington Post profile of Machado, the last thing Machado expected to receive was scrutiny about her weight. According to a 1997 CNN report, Machado reportedly "put on nearly 60 pounds" in the nine months after her win (which Machado claimed was really 15 pounds). The photos and videos of Machado's win do not show someone who would face such "controversy" nine months later. They don't even show someone who would become one of the many faces of a political campaign 20 years later. The photos of Machado's Miss Universe crowning just show a teenager absolutely excited for her future.
Donald Trump was the executive producer of the Miss Universe pageant at the time of Machado's crowning. "Some people when they have pressure eat too much. Like me. Like Alicia," Trump said, according to CNN. However, in spite of those comments Trump stood by his decision to not terminate Machado's contract. A far cry from this past week when Trump reportedly referred to Machado as "someone I don't know."
According to The Washington Post, from a young age, Machado had wanted to be an actress and hoped to get her start in telenovelas — or Spanish soap operas. According to the profile, Machado believed her time spent in front of the cameras making appearances as Miss Universe was good preparation for the future career she had wanted after she held the title. At the time of winning her title, Machado told The Washington Post that she had set her sights on winning Miss Universe because she knew it would "open doors." Instead, Machado got a lot more than that — both good and bad. It opened doors for her to talk about eating disorders but also opened doors for her to face scrutiny about her past.
But the video of her crowning does not predict Machado's future. It shows a young girl, proud of where she is from and excited for her future. It shows someone comfortable in their own skin, ready to serve the world as Miss Universe.
In spite all of the reported headlines and controversy that Machado faced — in both 1996 and 2016 — Machado's crowning shows a young woman ready to use her platform as Miss Universe for the better, ready for open doors. Before the 2016 presidential election and before the comments about her weight, Machado was young woman with dreams. It can not be clearer in these photos.