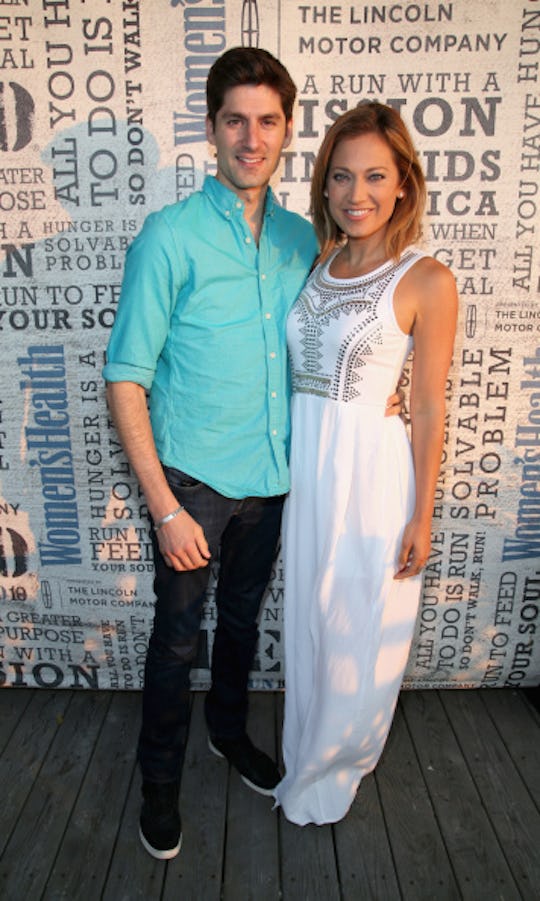 Paul Zimmerman/Getty
Pictures Of Ginger Zee's Family Show That The Star Has A Pretty Cute Support Team
It's unfortunate that you can't win Dancing With the Stars on sheer charm, because if that were the case then Ginger Zee would certainly already have this whole thing in the bag. The Good Morning America chief meteorologist's adorable husband and infant son add to her appeal, as both can usually be found applauding wildly in the audience. Photos of Ginger Zee's little family show that her support system is just as adorable as she is.
If Zee does win the whole competition and take home the mirror ball trophy it won't be due to her charm and cute family alone. The lady has some pretty sweet dancing skills of her own. Even with some formidable competition from the likes of Nyle DiMarco, Wanya Morris, and Antonio Brown, Zee manages to hold her own. Her Disney night Beauty and the Beast number, for example, was a favorite with the judges, and earned her the highest scores of the night. She turned in a slightly disappointing performance on 'famous dances' night with her interpretation of Janet Jackson's "Nasty." Perhaps it was because Zee is just too naturally sweet to really get into Janet's nasty attitude. A look at the family pics below show why.
Zee shared a picture of herself with a shirtless Val in the background getting ready to be spray-tanned. When a few people criticized the shot as inappropriate, Zee posted this joking pic with her shirtless husband in the background instead. Side note, let the woman post whatever she wants to post!
Zee and her son Adrian are clearly the most adorable couple in the universe.
Zee's husband, Ben Aaron, brought baby Adrian to watch Zee's "Most Memorable Year" dance with this sparkly baby-carrier. Adrian was first not super thrilled to be on stage and cried the whole time. He eventually chilled and by the time this picture was snapped had already fallen asleep in his mommy's arms.
I have never looked this relaxed while waiting for the bus.
Ugh, new families are probably the cutest things ever.
From this throwback pic, we can tell that Zee comes by her cuteness naturally. This is Zee and her younger brother Sean back in the day. Still a little goofy, still totally charming.
So, there you have it, Zee's charm runs through her veins. There's no doubt she has what it takes to win the competition.