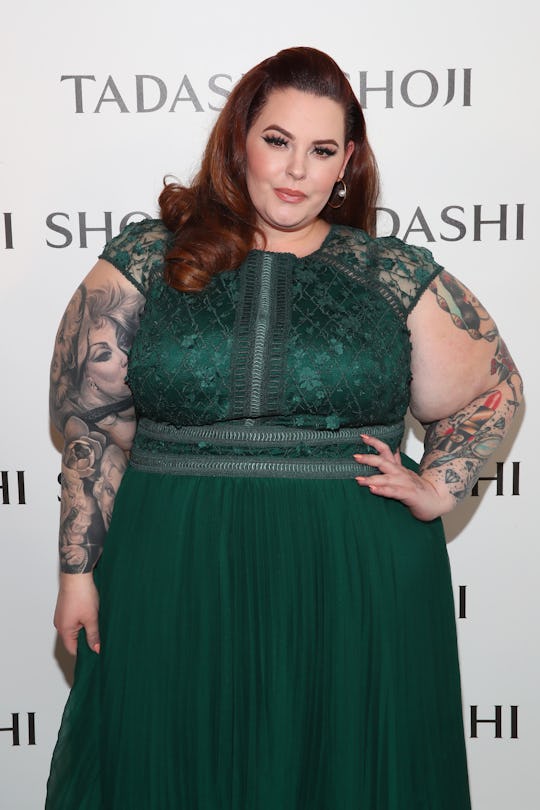 Astrid Stawiarz/Getty Images Entertainment/Getty Images
Tess Holliday Perfectly Responded To Piers Morgan's Criticism About Her Weight
Tess Holliday is unashamed of who she is. The author, mom, model, and body positivity icon is proud of her body and loves herself the way she is — but other people seem to have a problem with it — like TV personality, Piers Morgan. This past week, Piers Morgan body shamed Tess Holliday in an open letter and her response was simple and very to the point. Representatives for both Morgan and Holliday did not immediately respond to Romper's request for comment.
Morgan wrote a letter to Holliday after seeing her on this month's cover of Cosmopolitan UK and learning about her weight. While some people might have kept these thoughts to themselves, Morgan took to the Daily Mail, where he asked Holliday a series of open ended questions and said that it was a "fact" that she was "suffering from morbid obesity."
"Nobody, male or female, could see their weight surge to over 300 pounds if they're 5 feet 3 inches tall, and be genuinely happy," Morgan wrote.
In the letter, Morgan also unnecessarily called out the fact that Holliday is a mom to two boys. "They need you to stay alive and be their mum." Yikes.
Holliday was quick to respond to Morgan's claims on Twitter, using a short (and sweet) response to his letter to sum up her feelings. She called the letter a "pathetic excuse to get attention." Boom.
This isn't the first time that Morgan criticized Holliday for her weight. Just one day before Morgan published his letter to Holliday, he took to Twitter, where claimed that Holliday "needed better friends" who would "be honest with her" about her weight, according to The Independent. And when her Cosmopolitan U.K. cover debuted late last month, Morgan reposted the photo on Instagram, calling the cover "dangerous and misguided."
Holliday's comeback to Morgan (also on Twitter) earlier this week about these comments was super smooth, proving that no one is going to bring Holliday down, especially with comments about her weight. "The last two weeks you've been obsessed with me," Holliday wrote. "Makes me feel like you're obsessed with thicker girls and too afraid to admit it."
Morgan addressed Holliday's comments in his column written for the Daily Mail. "I love women of all shapes and sizes," Morgan wrote. Adding, "I'm not obsessed with you, I'm worried about you."
But Holliday's friends, fans, and admirers didn't agree with Morgan's comments, taking to Twitter to share their support for Holliday and criticize him for saying these things.
There are so many problems with Morgan's comments. But the bottom line is this: no one has any right to comment on other people's bodies just because they feel like it. His open letter talks down to Holliday, assuming that she isn't aware of the criticisms made about her weight every single day (newsflash, she is). Since she is a public figure, it's likely that she has heard it all — and if Morgan did any research about Holliday, he would know that she wouldn't care about his letter or the comments made about her body. Instead of publicly shaming Holliday for her weight and calling her out like this, Morgan should have kept the comments to himself. If he cared about her health (like he claims) then an open letter wasn't the way to do it.
And Morgan's claims about obesity are just a little misguided. According to a new story published by HuffPost this week (around the same time that Morgan's open ended letter was published), "everything" we know about obesity "is wrong."
Research has shown that diets do not work, according to HuffPost, and that keeping weight off your body means "battling hunger, all day, every day for the rest of your life." Additionally, health and weight are not synonymous — instead of weight, habits are an indicator of health, according to HuffPost.
Morgan might have needed to do a little research before claiming Holliday was unhappy, unhealthy, and calling the people around her "enablers" of bad behavior. Because at the end of the day, Holliday is fine with the way she is.
After her Cosmopolitan U.K. cover debuted late last month, Holliday addressed the backlash she faced over it during an interview on Good Morning America. Holliday said, according to ABC News:
You have to keep having this conversation because that's how things are going to change. I'm not recruiting people. I'm literally just telling people to love themselves and it just happens to come from a bigger body. Unlike Piers Morgan, I don't need to troll people to stay relevant. I just get to have an awesome job and do what I love and hopefully it changes lives.
Holliday is changing lives. Holliday is at the head of the "eff your beauty standards" campaign, which tells everyone that it is OK to embrace their bodies and be OK with who they are, according to the Telegraph. When people understand this and see themselves reflected in the media, they know this to be true — which is why Holliday's words about loving yourself are so important to hear.
"I'm at the heaviest I've ever been in my life now and it took me being the heaviest to finally love myself," Holliday said in her Cosmopolitan U.K. cover story.
Although Morgan might have a problem with Holliday and her weight, it is clear to everyone else that Holliday doesn't. Her response to body shamers like Morgan should be admired.