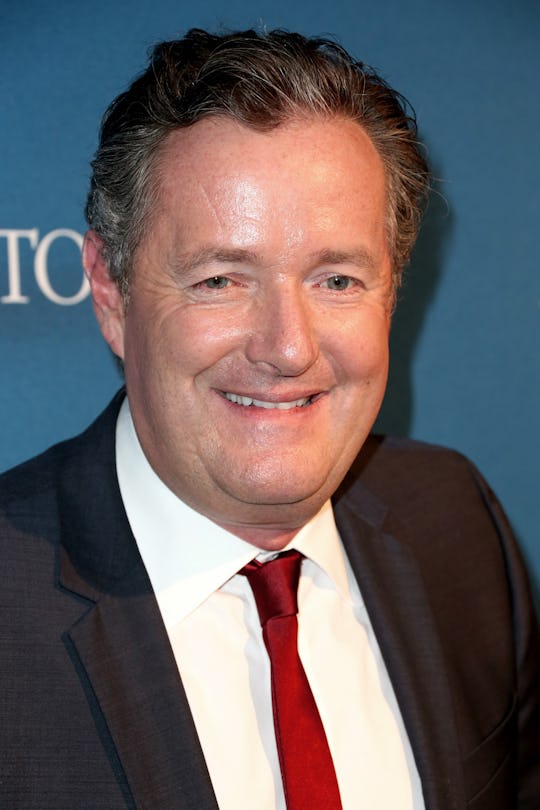 Frederick M. Brown/Getty Images Entertainment/Getty Images
Piers Morgan Responds To Beyonce's New Album & It's Blissfully Ignorant
The internet is rightfully ablaze this week, because Piers Morgan's response to Beyoncé's new album simply begs to be ridiculed. Writing in the U.K.'s Daily Mail, the former host of CNN's Piers Morgan Live argued that Beyoncé's new visual album, Lemonade, was too political for his taste. Morgan referred to the album as "deeply political and race-fueled," before calling Beyoncé a "militant activist." He then accused her of exploiting the grieving mothers of Trayvon Martin and Mike Brown (Martin was killed by a neighborhood watch volunteer, Brown by a police officer) to bolster sales of her album.
Morgan began his condescending whine-fest by stating that he didn't like it when entertainers go "all political." This distaste for political entertainment, he said, had grown because "the cynic in me believes it's rarely done for genuine reasons but for strictly commercial ones." He then directly accused Beyoncé of being guilty of this type of profiteering, characterizing parts of her album as "shameless exploitation."
If Morgan's "cynical side" believes that entertainers "go political" for profit-oriented reasons, that probably says more about Piers Morgan than anything else. It also reveals that Morgan has terrible taste in music, given that the best musicians of our time, from Bob Dylan to James Brown, sang extensively about political topics.
Morgan's diatribe is, among other things, painfully ignorant and tone-deaf to the realities of black womanhood in America. He complains that Beyoncé's sudden turn toward the political is totally out-of-sync with her previous silence on political issues—as if musicians, or entertainers of any kind, aren't in constantly changing conversation with the world around them. He says that Beyoncé's references to Black Lives Matter and the grieving mothers of young black men are intended to "further fill her already massively enriched purse" — as if the more obvious explanation isn't that Beyoncé is increasingly enraged by the systemic exploitation and degradation of members of her race.
Morgan's argument that Beyoncé uses political posturing to make money is terribly ironic, given Morgan's background as a journalist-turned-reality-TV-star-turned-irrelevant-columnist. A 2013 profile of Morgan in Vanity Fair observed that "in all of his iterations, Morgan appears to aspire to one great ambition: to become more famous than he already is." The profile tracks Morgan's tumultuous career, arguing that Morgan "has made his career through a combination of fawning over and feuding with celebrities of all stripes."
In this context, Morgan's sudden desire to chime in about Queen Bey is a fairly naked attempt to ride the click-bait wave after Lemonade's release was announced on HBO on Saturday. Beyoncé, after all, isn't the first celebrity that Morgan has picked a fight with in his attempts to make headlines. In 2011, Morgan banned Hugh Grant from ever appearing on Piers Morgan Live, reportedly for no other reason than that Grant is a "tedious little man," as Morgan wrote on Twitter.
Similarly, Morgan banned Madonna from Piers Morgan Live, stating that "she's kind of been an irritant in my life for 20 years." This was apparently in reference to an ongoing feud began in 2001 after Morgan threw a bread roll at Madonna during a dinner party. The "feud" — which in actuality consists of Morgan talking about the alleged feud during interviews — is pretty much a construct created to further Morgan's fame.
As recently as last month, Morgan allegedly continued to use this "feud" with Madonna to attract readers to his Daily Mail column with a piece entitled "With a mother as mortifying as Madonna, no wonder Rocco doesn't want to go home." In it, Morgan includes a bullet-point list of why Madonna is probably a bad mother; the first three items are "gyrating semi-naked on stage," "flashing her bare bottom," and "baring her breasts." Morgan concludes that while all this would be "toe-curling" to the son of a "spring chicken," Madonna's advanced age elevates these behaviors from toe-curling to "an excruciating bloody nightmare."
All this gleeful misogyny clarifies that, beyond using famous women to prop his own career, Morgan simply doesn't seem to like them having power, and having a voice. (Kinda like Republican presidential candidate Donald Trump, no?) As writer Luke O'Neil pointed out in an Esquire article about Morgan's attack on Beyoncé,
It's not easy to shoulder one's way to the fore, to stand out among the deluge of voices [writing about Lemonade]. It takes a truly determined, and truly stupid, take to get the desired attention.
Piers Morgan, it turns out, is precisely that "determined ... stupid" voice.
If Morgan is relevant today, it's only because his cringe-inducing opinion pieces serve as excellent examples of Mansplanation: extraneous, futile, and prime for critique.