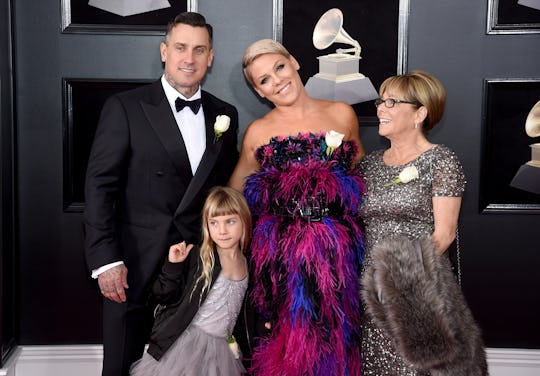 Jamie McCarthy/Getty Images Entertainment/Getty Images
Pink Brought Her Daughter To The Grammys & They're So Adorable Together
Pink is one bad*ss mother and a bad*ss musician, which basically makes her one of the coolest women, ever. Pink is an outspoken advocate for women and devoted mom to her young daughter, Willow Hart, with husband Carey Hart. So it shouldn't be surprising that Pink brought her daughter to the 2018 Grammys and they could not look any more perfect together.
It is going to be a huge night for Pink. The singer is not only nominated for Best Pop Solo Performance for her ~amazing~ song "What About Us," but she is also performing during the evening. But this performance won't be your average performance — according to E! News, this will be the sixth time and fourth consecutive year that Pink will be performing on stage. So by now, she is a Grammys staple. Which makes bringing her daughter with her to the awards show all the more special. While every girl dreams of appearing on the red carpet, Willow is practically a staple herself by now.
Pink and Willow looked absolutely incredible in their dreamy feathery dresses, grabbing the attention of the internet with a pre-show 'gram before striding the red carpet. The 6-year-old looked super cute in her tutu dress, blazer, and sneakers, looking so completely comfortable. Talk about being an inspiration — her fancy meets casual outfit is one that anyone could take inspiration from. The best accessory? A white rose sheathed on her hip, which is meant to represent and support the Time's Up movement, according to Harper's Bazaar. "Family portrait," Pink captioned the Instagram post, slyly referencing her hit song – a real happy ending.
Fans were a huge fan of their looks, taking to Twitter to talk about how cute Willow looked. Notable: Pink's mom Judy, who joined the gang. #yearofthemom
But also:
Willow's calm and collected demeanor on the red carpet is to be expected since she is such a seasoned pro at walking on the red carpet by now. In 2017, she walked two red carpets with her mom, making a huge impression on those of us glued to our televisions. In August, Willow blew everyone away when she made her appearance on the red carpet at the MTV Video Music Awards wearing a matching suit to her mom and looking so incredibly dapper and gorgeous. You could tell that Willow was so happy and confident in her own skin.
But her appearance at the VMAs had more than one purpose. It was there at the VMAs where Pink gave a speech dedicated to her daughter after she told the audience that someone called her daughter "ugly," according to Harper's Bazaar. Pink said, in reply:
"We don't change. We take the gravel and the shell and we make a pearl. And we help other people to change so they can see more kinds of beauty."
With Willow in the crowd looking on, Pink's words spoke so much truth to the young girls at home who looked up to singers like Pink and felt insecure in their own looks. Their appearances on the red carpet were more than just appearances — they were representing all of the girls at home who one day wished that they, too, could walk a red carpet themselves.
In November, Pink and Willow pulled off a similar appearance at the Country Music Awards. This time, they wore matching tulle dresses, looking like Disney princesses. It was Willow's first time at the show, according to Just Jared. This year was also Willow's first time walking the red carpet at the Grammys.
But it is a good thing that they walked the red carpet, together, because the mother daughter duo could not have looked any better. One can only hope that this won't be Willow and Pink's last time walking the red carpet together.
Check out Romper's new video series, Romper's Doula Diaries:
Watch full episodes of Romper's Doula Diaries on Facebook Watch.