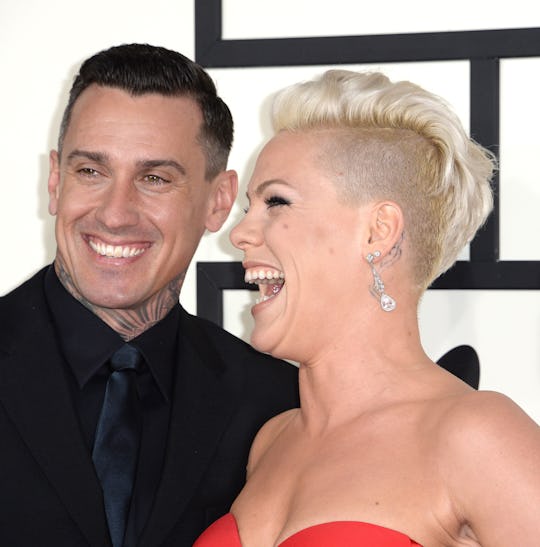 ROBYN BECK/AFP/Getty Images
See Pink & Carey Hart's Sweet Anniversary Messages
11 years and two children later, punk power couple Pink and Carey Hart appear to be both stronger than ever and ready for the challenges that might come their way. Pink and Carey Hart's anniversary messages to one another are tender yet realistic tributes to their love and their history. Seeing as Pink just gave birth to Jameson Moon Hart at the end of December, it's impressive that the two found time to tweet and 'gram to one another amidst caring for both their new baby as well as his big sister, Willow Sage. It appears that you really can have it all.
"Yum yum yum yum yum yum yum yum yum yum yum that's one for every year care bear. I really like you this week. #happyanniversarymylove I'm very lucky to be able to say that you're mine. Thanks for sticking around," Pink shared on Instagram, coupling the message with a red carpet smooch from the 2012 MTV Video Music Awards. Though the image is picture-perfect, the couple's relationship hasn't been without its issues. Pink and Hart have been together since 2010, but they've had their share of break-ups. The couple split in 2003, were married in 2006, but then split up another time. This time, though, they're sticking it out; Pink and Hart have been together consistently since 2010. In May of 2016, Pink joked that they might be "due" for a break, telling Ellen: "We take breaks. We've had two breaks.... The first one was about a year. And the second one was 11 months." The sweet anniversary post below subverts that completely:
Hart's tweet gives kudos to his "amazing wife," calling her "the most amazing woman on the planet." What's more, Hart's message doesn't shy away from the reality of their situation. No, the couple wasn't posting about an extravagant, romantic anniversary getaway, or something similarly fabulous. Instead, Hart shares that he's tweeting out his affection "in between poop diapers and breast feedings." Gotta love the honesty.
Their nonconventional way of doing things makes Pink and Hart relationship goals to the max. Back in 2005, Pink proposed to Hart in Mammoth Lakes, California, standing on a racetrack as Hart lapped around it at the Pro 250 class final. Pink boldly held up a sign, asking: "Will You Marry Me?" Hart kept on going, however, prompting Pink to write another sign, this time saying: "I'm serious!" Naturally, Hart pulled over the second time.
Pink and Hart are able to appreciate all that they have because of all that they've endured. The course of their relationship hasn't been completely smooth, but now they've come out happier than ever, with a beautiful family to show for it.