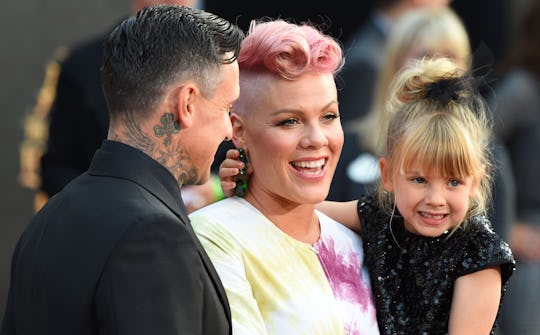 ROBYN BECK/AFP/Getty Images
Pink Got Her Daughter A Matt Damon Birthday Cake, Because She Is Winning At Motherhood
When it came time to planning her daughter's fifth birthday party, P!nk knew there was only one person's face she could put on the cake: Matt Damon's. According to People, the singer revealed in an radio interview back in April that her daughter Willow became a huge fan of the actor after seeing him in The Martian, so naturally Pink got her daughter a Matt Damon birthday cake and pretty much won motherhood as a result. After Willow asked her mom if Damon could come to her birthday, P!nk considered getting her a poster as a present, and even looked into Damon dolls, telling radio hosts Kyle and Jackie O that they were "very disturbing." The Damon cake on the other hand? Total brilliance.
In an Instagram photo posted Sunday, P!nk showed off the dome-shaped birthday cake to her followers. Decorated in cratered, reddish-brown fondant to look like Mars, the impressive dessert featured a Damon astronaut figurine sitting on top of it, with the words "Happy 5th Birthday Willow" written below in brown icing. While P!nk didn't share her daughter's reaction or whether she thought the cake was the best thing ever, she did add a sweet caption: "Matt Damon made it after all."
According to Entertainment Tonight, P!nk unfortunately had to learn the hard way though that there are some things she probably shouldn't share about her daughter in interviews. She told ET,
[Willow is] already upset with me because there's a new game we play called Ask Siri — which, she just found out last week there's a Siri — and I said, 'Siri, Willow-Matt Damon' and all this stuff came up. [She's] like, 'How do they know?' She got mad at me! I was like, 'Oh my God, I need to keep my mouth shut. Sorry!'
P!nk also told ET that Damon isn't the only object of Willow's affection. After visiting her mom on the set of her latest video, "Just Like Fire," which was recorded for the Alice Through The Looking Glass soundtrack, Willow also developed a bit of a crush on Johnny Depp's stunt double! P!nk explained,
He's a very charming man. She loved him. She also wakes up, if it's not 'Matt Damon,' it's 'Mad Hatter.'
So what's next for P!nk now that she's released her first song in over three years? It doesn't sound like she's quite ready to return to the studio and life on the road just yet. According to Us Weekly, P!nk joked that her life has been "lots of bake sales," and explained that, for now, being a full-time mother is her main priority:
I love being a mama. I made a choice a long time ago that I was going to have a successful family, and that is my absolute number one goal.
She also admitted that she'd like another child — although sometimes she feels like she already has two children, when she counts her husband, retired motocross racer Cary Hart:
I feel like I have two kids right now. I would like a third. No, I want to say that Carey Hart is an awesome husband and a really good dad, but he's also like a second child.
Judging from all of the sweet photos P!nk posts on social media, it definitely seems like she's loving life with her family right now. And if her super-cool Matt Damon cake is any indication of her fun mom-spirit, I don't think she needs to worry too much about getting the successful family she's always dreamed of.