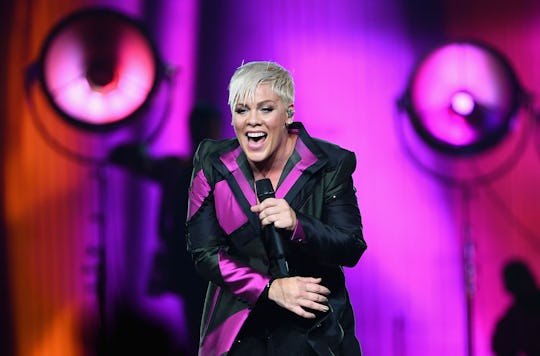 Quinn Rooney/Getty Images Entertainment/Getty Images
Pink Is Once Again Forced To Fire Back At The Mom Shamers
It's easy to look at celeb moms and assume they have it made, and mom-of-two Pink is no exception. Right now, the singer is in Australia on a world tour with her family — and her Instagram account is full of adorable behind-the-scenes snaps to prove it. Pink's working mom life might seem like total goals when you're rushing out of a meeting to pick your kids up from daycare in time, but in her latest Instagram post, Pink hit back at claims she was "chilling on the beach" after canceling a show, and revealed what it's *really* like to be a mom on the road (spoiler alert: it's rough).
Though she's currently traveling the world as part of her Beautiful Trauma tour, Pink recently had to cancel her scheduled concert in Sydney due to illness, which was no doubt a huge bummer for her fans. But making it worse, according to E! News, was the fact that paparazzi photos showed the singer on the beach with her kids in Byron Bay after making the announcement, with a snarky caption that read, "Pink's Sydney concert cancelled as she chills in Byron Beach." She was clearly not about to let anyone suggest she was playing hooky though: in her post, she shared the paparazzi photo, and explained that there was so much more to that story than her critics realized.
As much as it might seem like a total dream to be able to take your kids with you as you travel the world — and presumably earn a lot of money for doing so — Pink shared that, even when you're a superstar, you can't escape the daily challenges of motherhood. The tour, she explained, is "the best and most physically demanding and beautiful show" she's ever put together, but bringing her kids with her on the road meant that she also had to ensure that the schedule was planned "meticulously," to ensure she was "[doing] what was best for [her] children."
Part of that meant including enough breaks and excursions so that her kids weren't just stuck inside hotels and venues 24/7 — and that also meant honoring that break, even if she was sick, and even if being sick meant she had to cancel her show. She wrote:
This break in Byron has been scheduled since 2017, as a way to get outside the hotel and the winter and have some time with my children. I've already been sick twice (kids as well) on this Australian tour, but the first time we got sick, I was able to push through. This time, what these parasite paparazzi don't show you, is two doctor visits in Byron on two consecutive days, antibiotics, steroids, Vick's, nose spray, throat spray, more steroids, NyQuil, a screaming baby in the middle of the night, every night, while mama gives him warm baths and tells her daughter everything is fine.
If you've ever had to care for your sick children while also being sick yourself, then chances are you can absolutely understand how awful it must have been for Pink to then be expected to perform on top of that. But that's also why it's not even sort of surprising that she would have felt so compelled to push back against the rumors that she was slacking off: sure, she may have technically been taking a beach day, but any parent knows that sitting on the beach with your kids while you're sick and have just had to cancel a show is far from "chilling."
But what's worse, according to the singer, is that, the very paparazzi who shared that photo added an even bigger layer of stress to the already-stressful situation by angling for a pic in the first place. Pink wrote,
I'm doing the absolute best I can, and you can believe it or not. What they don't show you in this picture is me drinking water and lying down while my friends try to entertain my 7 year old who is asking me why these creepy men are surrounding us and pacing back and forth and taking pictures of her every move.
The singer went on to share that she was still intending on performing in her next show, regardless of whether or not she was still sick, and that the Sydney show was going to be rescheduled. The good news at least? As awful as it must have been for her to be accused of faking her illness or cancelling the show unnecessarily, her fans were at least totally understanding and on her side. In response to her tweet announcing that she had to cancel, many of her Australian followers replied with messages of support:
Honestly, as much as it seems like it would be fun to be a celebrity who gets to bring her children along as she embarks on a world tour, it sounds pretty clear that the actual reality is majorly stressful. What's even worse though, is the realization that, on top of all that stress, Pink also has to grapple with public criticism about whether or not she's telling the truth.
Pink's fans, at least, don't seem to be too bothered by the commotion, and hopefully that provides her just a little bit of comfort during what must otherwise be a seriously rough time. But her post goes to show that even celebrity moms struggle with the pressure to live up to the unfair expectations the world places on moms to somehow "do it all," and that it's way past time we finally cut each other some much-needed slack.