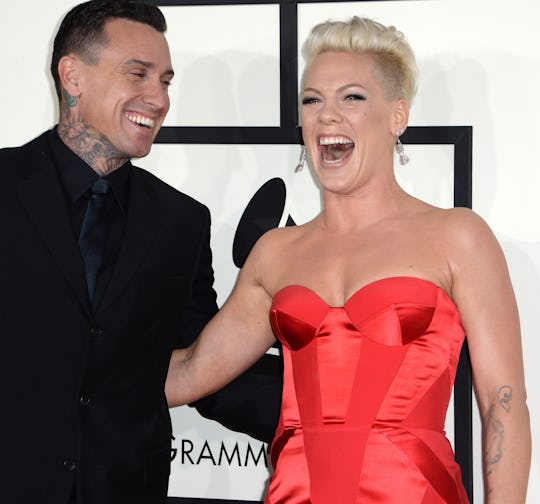 ROBYN BECK/AFP/Getty Images
Pink Is Expecting Her Second Child With Carey Hart And The Couple Couldn't Be Happier
On Saturday, E! News reported that singer Pink is expecting her second child with husband and former BMX-star, Carey Hart. Pink, 36, made the announcement via her personal Instagram account, showing a gorgeous picture of her first child, 5-year-old daughter Willow Sage Hart, hugging Pink's glowing baby bump. In true Pink-fashion, the pictures has a hippie, punk-rock feel that makes every other pregnant woman swoon with envy. While the rest of us may or may not have spent our entire pregnancies on our couches (or in bed), throwing up every second of the day and practically living in our yoga pants, Pink managed to stand in what looks to be an orchard, in a beautiful, white maternity dress, while her daughter matched in a white sundress and adorable pink cowboy boots. Can you say #MomGoals?
Pink wrote, "Surprise!" as the caption to her post, although the pregnancy election couldn't necessarily be considered a surprise. The three-time Grammy winner recently sat down for an interview with Good Morning America in May, beaming about motherhood and how much she enjoys it. "I made the choice a long time ago that I was going to have a successful family and that is my absolute number one goal in life," the singer said, adding on that she loves "being a mama."
It's worth nothing that, just like her wildly successful music career, Pink truly has worked hard to have a success family. Pink and Hart, 40, first split in 2003, only to reconcile and marry in Jan. of 2006. Then Pink and Hart had a very public split in 2008, getting back together the following year, in 2009. Earlier this year, on May 4 during an interview on The Ellen DeGeneres show, Pink admitted that her and Hart have been on two "breaks," during the course of their relationship. "The first one was about a year. And the second one was 11 months."
In Jan. of this year, the couple celebrated their 10th wedding anniversary, Pink joking that her and Hart were "due" for another split. Obviously, with the joyous announcement of another addition to the Hart family, Pink fans can rest easy knowing a "break" is probably the last thing on the excited couple's minds.
In fact, the only arguments the couple will probably be facing anytime soon, according to Pink, will be parenting-related. She told DeGeneres that the couple's most recent argument had to do with Hart, their daughter, and their bedtime routine. Hart routinely falls asleep while putting the couple's daughter to bed, making it all the more difficult for Pink and Hart to spend time together. (An issue all parents with partners can relate to. Trust me.)
"He's an incredible dad," Pink told DeGeneres. "That's why he falls asleep. Because she wants him to stay." Well, it's safe to say that when baby number two makes his or her entrance, no one will be getting any sleep.
Congratulations to the happy couple!