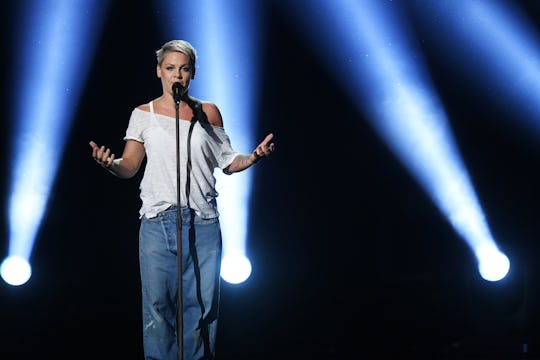 Kevin Winter/Getty Images Entertainment/Getty Images
Pink Got Her Daughter To Talk To Her In The Most Creative Way Ever
Listen, being a mom is hard. Ask any mom out there, and they'll all tell you some version of what was just said. No matter how many kids you have, how old they are, or if you work or stay at home, it's hard. And that's something that singer Pink has definitely come to recognize. Seriously, Pink literally held a sit-in at her daughter's school because she wouldn't talk to her, and it's something every parent can relate to. Well, OK, maybe you've never had a sit-in at your child's place of learning to get them to talk to you about their feelings, but still, you get it.
Yes, in a recent interview with Redbook, the singer and Grammy winner explained that her life had completely changed after she had kids, and one of the hardest lessons she's had to learn was that her kids aren't always going to tell her every little thing that goes through their minds. Such is the case when Pink's daughter, 6-year-old Willow, initially didn't want to talk to her mother about what she was feeling. And Pink wasn't really OK with that. "I am a total crier," Pink told Redbook. "I cry at commercials. I cry when the wind's changing directions."
So, since Pink is so open and honest about her emotions, it was understandably frustrating when the 38-year-old could tell that something was up, but young Willow wouldn't talk about it. Per Rebook, Pink explained the situation:
Willow won't cry ever, and it annoys me to no end. One day I had a sit-in at her school because I knew she was upset and she wouldn't talk to me. I sat down on the pavement and I was like, 'I'm not moving until you tell me about your feelings, because this is going to be a lifelong conversation for you and me and you have to learn to let me in.'
Obviously, it was a pretty bold move, but it seems to have paid off. How did the mother-daughter duo end up resolving things? Well, as Pink told Redbook,
Without batting an eye, she goes, 'I promise to tell you more about my feelings if you promise to tell me less about yours.'
Yeah, there's no denying that the kid has got some spunk. But at the end of the day, Pink understands that she isn't always going to agree with how her daughter chooses to express herself. "She processes differently than I do, and it's teaching me a lot about how to deal with people," Pink explained to Redbook. "I process out loud. She does it inside and it scares me a little, but I have to let her go through her process." Yes, as so many moms out there know to be true, dealing with children and their emotions is a seriously tricky subject.
But as a mom of two, Pink definitely has learned a lot. Of course, it wasn't always easy. The mom and wife told Redbook that she knew how she wanted her kids to turn out, but the logistics to get there weren't always spelled out in front of her. "I want to raise her to be strong and empowered; Jameson too. But nobody tells you how to do that or what that looks like day-to-day." She's got a point, too. Navigating motherhood is no easy task, but it's one that is well worth it. And in the midst of all the hectic days and demanding schedules, it's clear that Pink has definitely found the beauty in it all. And when you're taking your kids with you on tour (even if they're totally adorable most of the time), that's totally necessary.