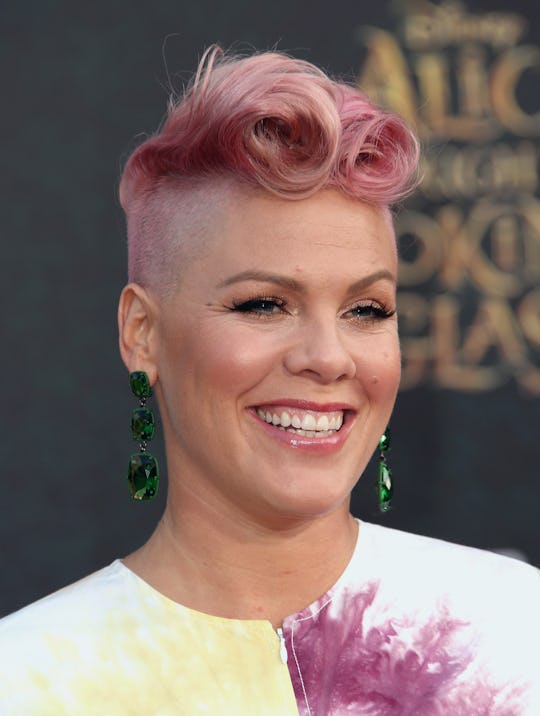 Frederick M. Brown/Getty Images Entertainment/Getty Images
Pink Posted A Beautiful Breastfeeding Picture On Instagram, & It's Heartwarming
There are so many reasons to love P!nk — and she's just given the world another. Pink posted a beautiful breastfeeding picture on Instagram on Thursday to celebrate National Breastfeeding Week, and she included a bit of breastfeeding advocacy at the same time. In the throwback snap, she snuggled then-baby Willow Sage as Willow breastfed, the two of them looking absolutely peaceful and content. P!nk captioned the shot, "In honor of #nationalbreastfeedingweek2016 I proudly post this photo of a very HEALTHY, NATURAL act between mother and child. Taken in Helsinki by a very supportive and proud Papa."
Breastfeeding can be a contentious topic in parenting circles, so it's great to see a strong mom like P!nk set the record straight. This isn't the first time she's defended mothers' right to breastfeed, either, having told Chatty Man host Alan Carr in 2012 that she was a "militant breast-feeder woman" happy to challenge people's preconceived notions. As she told Carr:
The first time we went out to a restaurant, there was a guy who walked by. I had a cover on and it's called a Hooter Hider. I had a Hooter Hider on and this guy walks by and was like, 'Uughhh.' He was just disgusted. I was like, 'You didn't get enough hugs when you were little.' [My husband] Carey said, 'You are starting fights in restaurants.' I said, 'I will… I will fight, hold my baby.'
"I think breast-feeding is healthy and natural and it's a comfort to my baby," P!nk told Carr. She said that, at the time, she would breastfeed in public on purpose. "I could give a s— what someone else thinks."
(During that same interview, P!nk also explained that she had to take out her nipple rings when she began breastfeeding because "it was like a sprinkler." Have I mentioned how much I love P!nk yet?)
For those wondering, Willow is now five and awesome — and P!nk has continued to advocate for her daughter's best interests. "I was born the day you were born," she captioned one picture of Willow on Instagram.
Breastfeeding is a personal choice — but moms who choose to do it should never be shamed for picking the healthiest, most natural way to nourish their kids. Luckily, mothers have some awesome advocates around the world to help them combat stigma, and the "Just Like Fire" singer and mama is one of them. Keep fighting the good fight, P!nk!
(Btw, check out Romper's Instagram here).