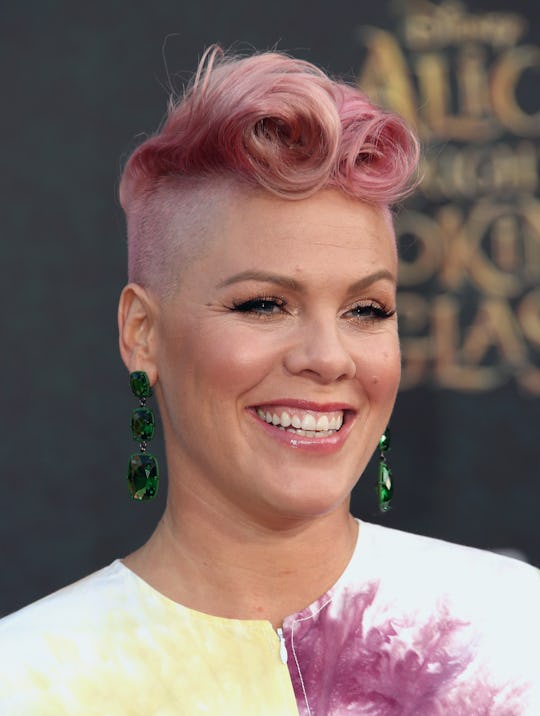 Frederick M. Brown/Getty Images Entertainment/Getty Images
Pink's Daughter Is A Bit Jealous Of The New Baby
Pink is not only a fantastic singer and human being — it seems she's a pretty considerate mother, too. It seems that her 5-year-old daughter, Willow Sage, is a just a wee bit jealous of her parents' newborn son, Jameson Moon, so Pink has been extra mindful to make Willow feel included. How does the singer manage to tamp Willow's jealousy? As it turns out, Pink puts her newborn down when Willow's around, and she even threw her daughter a "big sister party" when Jameson was born to celebrate Willow's new role.
When Ellen DeGeneres asked Pink on Tuesday what she was doing to help Willow adapt to her new older sibling status, Pink laughed. "I do all kinds of stuff," she said. "I literally put Jameson down when she walks in the room. ... She's a little weepy these days so we're working it out."
Aww. It's totally normal for siblings to get jealous of a newborn, but it sounds like Pink is handling the situation with plenty of patience and a good dose of fun. She shared pictures on Instagram of Willow's "big sister party," which came complete with helium balloons and a decorated cake that read, "Congrats Big Sis!" In the picture, both Pink and Willow were beaming.
Pink, 37, and her longtime husband, Carey Hart, welcomed Jameson on Dec. 26. Pink announced her son's birth (and name!) with an adorable picture of herself cradling her newborn. And judging by Pink's words from last May, she has been hoping for an addition to the family for a while now.
"I love being a mama," she told Good Morning America before she gave birth to her son, according to E! News. "I made a choice a long time ago that I was going to have a successful family and that is my absolute number one goal in life."
She continued:
I feel like I have two kids right now. I would like a third. No, I want to say that Carey Hart's an awesome husband and a really good dad, but he's also like a second child.
So far, Pink has been super open with pictures of her family of four, and fans are loving it. Hopefully we'll get to both hear more stories and see more snapshots as Willow and Jameson grow up — and judging by Willow's smile in pictures where she's next to her new brother, I have a feeling she'll come around to Jameson pretty quickly.