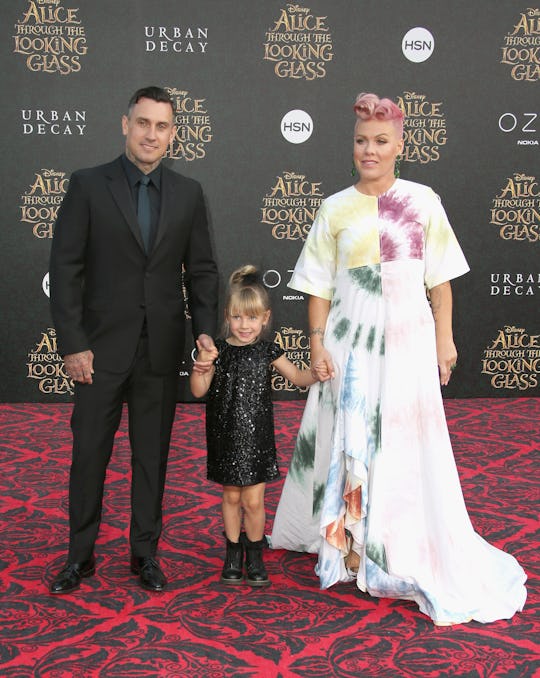 Frederick M. Brown/Getty Images Entertainment/Getty Images
Pink's Daughter Holds Baby Brother On Instagram
It's pretty safe to say that Pink and husband Carey Hart have a lot to look forward to in 2017: the couple just welcomed their second child, Jameson Moon Hart into the world on Dec. 26. And in a new post on the singer's Instagram, it looks like they aren't the only ones smitten with the new arrival. On Saturday, Pink shared a photo of her daughter holding her new brother, and it couldn't possibly be any cuter.
According to People, Pink's latest photo shows her 5-year-old daughter, Willow Sage, sitting in a chair and beaming as she proudly holds newborn Jameson, who is propped up in her lap by some pillows. In the photo's caption, Pink expressed her gratitude for all the love sent her way by her fans after she announced her son's birth, and wrote,
Happy New Year 🎆 #newlove#newlife#newenergy#newhope#newday the harts thank you for your love ❤️ and we send it back to you in spades.
The adorable sibling photo is the third in a series of sweet family photos shared by Pink following Jameson's birth. In the first photo, which announced the little boy's birth to the world, Pink can be seen gazing down lovingly at her new baby, who is wrapped in a hospital blanket, while in the second photo, Jameson is being held by his proud papa.
The Instagram photos are the latest social media updates about Pink's pregnancy — news she first shared with the wold via the photo-sharing platform back in November, according to Us Weekly. In the beautiful photo, Pink wore a white dress and held her growing belly, while Willow snuggled in at her mother's side. And though the singer was already pretty far along in her pregnancy at that point, she'd been able to keep the news under wraps, which meant that all she actually had to write in the photo's caption was, "surprise!"
Pink hasn't been the only one sharing sweet photos of her son online though. Hart has also been posting updates on his own Instagram account, including one particularly awesome post about sterilizing breast pump parts in a pot on the stove. In the caption, Hart wrote:
Oh yeah boy!!!!!!! It's a party up in here!!!!!!!! Getting my boob pump sterilization on!!!! At least I'm drinking beer 🍺👍👍👍👍.
Hart also admitted that, as happy as he was to be a father of two, the idea of having more than one kid after five-and-a-half years was kind of daunting. In a side-by-side post showing baby Jameson lying asleep in a blanket, and Willow snuggled up in pillows and blankets on the floor, Hart wrote a sweet tribute to his adorable family:
The kids are all snugged up on a stormy Friday afternoon. Not gonna lie, saying that @pink and I have "kids" makes me a lil nervous and very grown up. And I wouldn't change it for anything in the world. #MyWifeDidGood#SheCooked2GoodOnes
2016 may have been a tough year for so many reasons, and there's no question that a lot of people have been more than happy to see it end. But for Pink and Hart, 2016 was the year that their already-gorgeous and sweet family grew by one more member. And their beautiful updates have been so heartwarming to see.