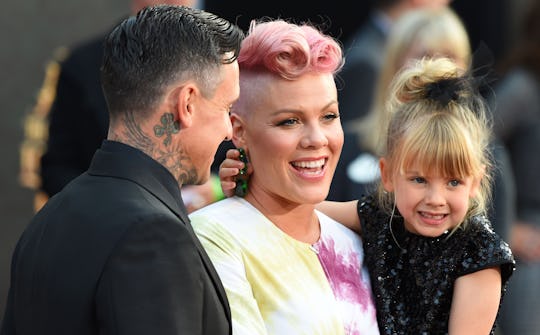 ROBYN BECK/AFP/Getty Images
Pink's Comments About Work-Life Balance Will Make Working Moms Feel So Seen
Chances are your life isn't that similar to Pink's. While she's selling out arenas on a world tour, your idea of success might be getting dinner into the oven on time, or making it through the day without yelling at a customer. But one thing you might have in common with the Grammy-winning artist is figuring out how to do it all on top of raising kids. In a new short documentary film out Oct. 13, Pink got real about work-life balance, because even if you're rich and famous, having two jobs is rough. Especially when at least one of them is super important.
The film, On the Record: P!nk — Beautiful Trauma, offers fans a glimpse at the star's life off-stage. "I would like to put everything I am and everything I have into everything that I do," she says in a sneak peak obtained by People:
I'd say the hardest part is just trying to figure it all out. I signed up for this when I was 16 and now I have children and I have a marriage. I just want to always make sure that I'm doing right by them. It's not a simple puzzle anymore — it's not just me.
Pink is married to retired motorcycle racer Carey Hart, and the couple has two children; Willow, 6, and Jameson, 8 months.
True, she can probably afford better child care and vacations than a lot of working moms, but her career comes with its own pitfalls: "It's rehearsals and it's putting on shows and then your 6-year-old has surf camp and your 8-year-old has a vaccination and then your album's out." When an off-camera voice corrects her — Jameson is 8 months old — she responds, "I said 8-year-old? Ah, sh*t." Dude, she was literally just talking about how busy and frantic her life is, and you're gonna nitpick over that?
But the slip-up illustrates the most important point: if you're a working mom, you're not going to get everything right all the time. You'll call your kid by the wrong name, miss a doctor's appointment, or show up to work with Cheerios stuck to your shirt. It happens to every working mom, even the rich and famous. And Pink's not the only one who's opened up about the struggle to have it all.
Jessica Biel
Biel, mom to Silas Timberlake, age 2, appeared on Live with Kelly & Ryan in August to promote her USA miniseries, The Sinner (unrelated: it's really good; binge it this weekend). "It's hard, trying to find a balance between work and family and just being an independent human," Biel told Ryan Seacrest and guest host Busy Philipps, according to People:
You're stretched thin everywhere, and it's been amazing creatively, but really hard. I think every working parent must feel the same. I don't think you ever master finding the balance. Like, you master it, and then your kids are grown up. Then you're home alone and sad, like, 'I wish I had something to master!'
Kate Hudson
"I don't try to sugarcoat things," the actress and single mom told Marie Claire in a 2016 interview.
I'll say, 'I'm doing the best I can.' I like cooking, I like presenting. I like it to be an experience and [my kids] help me with it, but if they want something after that, I'll be like, 'Look, I'm placing a meal out for you like a king. I can't do everything. I'm going to have to be the OK mom.'
There is nothing wrong with being OK! She continued: "As a woman, and as a working mom trying to get things done, you find yourself meeting adversity a lot, but you never talk about it because you don't want to bring attention to it. You don't want to go there."
Halle Berry
Raising Nahla Ariela, 9, and Maceo-Robert, 3, while also being a movie star isn't easy, Berry told People in July:
You don't ever balance it completely. It's a constant struggle of a little more time there, a little more time here, and feeling a little bit guilty all the time.I just keep telling all my mom friends who work that it's OK to give ourselves a little slack sometime and not let the guilt sit on us so heavily and know that we are doing the best we can.
Scarlett Johansson
"Being a working mom is an incredible challenge," the Avengers star told Entertainment Tonight:
I think you always feel a little bit of guilt… If you're at work, you feel like you're missing out on those special moments with your kid. If you're with your kid, you feel like you're not giving enough to your job. It's a balance. I have a lot of huge admiration for working moms. I'm barely, barely holding it together.
Kerry Washington
How does the Scandal star balance her work with raising Isabelle, 3, and Caleb, 7 months? Positive self talk, Olivia Pope-style:
I wake up, I have a house full of kids and pets, a new production company, I'm number one on the call sheet, and I think: 'I will not go down. There's always another way.'
Washington told Net-A-Porter in May. "I can be covered in spit-up on a conference call while I'm pumping and that's OK, because this is my perfect. It may not be somebody else's, but this is mine."
Felicity Huffman
Speaking with People last year, the American Crime star acknowledged her privilege, then made all working moms feel a little better about themselves:
First, I have to recognize how lucky I am to have to navigate these sorts of issues. I have a job that I love and a fabulous family that I love. But people always ask, 'How do you balance home life and work?' And I tell them, 'I don't. I just drop the ball all the time.'
Yes, you're going to screw up, too. so try to be like Huffman, and embrace it: "Sometimes I think, 'I'm failing as both a mother and an actress.' But I do what I can to stumble forward joyously."
Watch Romper's new video series, Romper's Doula Diaries:
Check out the entire Romper's Doula Diaries series and other videos on Facebook and the Bustle app across Apple TV, Roku, and Amazon Fire TV.