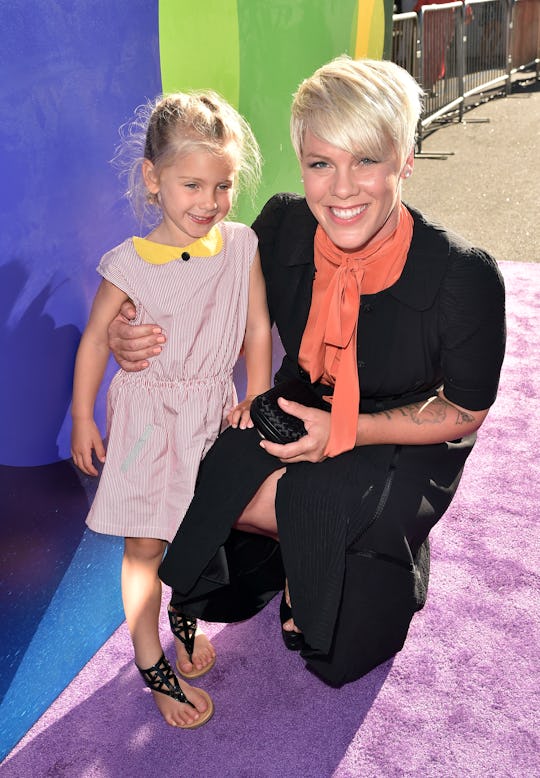 Kevin Winter/Getty Images Entertainment/Getty Images
Pink Throws Her Daughter A "Big Sister Party"
It's not always an easy adjustment to bring a new baby into the family — especially if your firstborn has been an only child for quite a while. But following the birth of her son, Jameson, in December, Pink devised a totally genius plan to make sure her 5-year-old daughter, Willow, didn't feel even slightly left out: she threw a party in her honor. Pink threw her daughter a "big sister party" over the weekend, according to Us Weekly, complete with pink and blue balloons, and a big chocolate cake with the words "congrats big sis!" written on it. The singer shared a sweet snap from the party of herself with her two children, and in it, Willow looks totally proud and happy as she holds her cake. (If that's not a total mom win, I honestly don't know what is.)
But judging from her Instagram, it certainly doesn't seem like Willow was having a hard time welcoming her new brother into her world. After announcing Jameson's birth, Pink shared a series of adorable photos, and in one, Willow can be seen holding her new baby brother and beaming. But regardless of whether there was any sibling jealousy, the idea of throwing a party to celebrate the older sibling is seriously smart. With all the love and attention directed at the new baby's arrival, carving out some special time to focus just on the firstborn is a great way to remind them that they aren't any less important than they were before the baby was born.
Pink certainly looks to be over the moon with her newly-expanded family these days, and she and husband Carey Hart honestly seem to be two of the cutest yet totally down-to-earth celeb parents out there. But their new baby joy isn't the only thing that they've been celebrating lately: according to Entertainment Tonight, Pink and Hart recently celebrated 11 years of marriage.
To mark the occasion, Pink shared a throwback photo on Instagram of the two of them kissing on a red carpet, and wrote, "Yum yum yum yum yum yum yum yum yum yum yum 👅 that's one for every year care bear."
Pink and Hart were married in 2006 after meeting in 2001, although the singer revealed they've actually split twice during that time — once for about a year, and a second time for about 11 months, according to Hello!. But despite the bumps in the road, the couple seems more dedicated now than ever. And with two beautiful children rounding out their gorgeous family, it's pretty easy to see why.