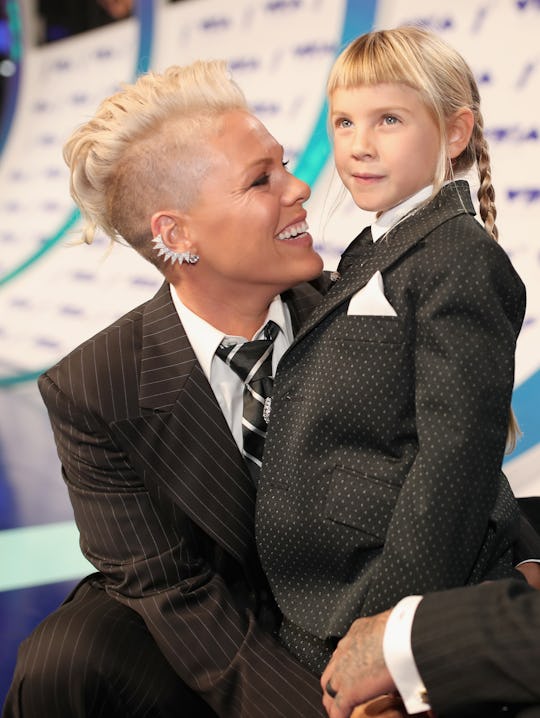 Christopher Polk/Getty Images Entertainment/Getty Images
Get Excited, Because Pink Will Be Singing The National Anthem At The Super Bowl
It's official! With less than a month to go until Super Bowl LII in Minneapolis, we now know who will be "getting the party started" — and it looks like one of our favorite celebrity moms will be among the featured talent at the U.S. Bank Stadium on Feb. 4. That's because Pink will sing the National Anthem at the Super Bowl, and fans are so pumped for it.
Prior to kickoff, Pink's performance will be televised live on NBC, Variety reported. Justin Timberlake will be returning to the big stage to perform during halftime, according to Us Weekly. (If you remember, Timberlake inadvertently exposed Janet Jackson's breast back in 2004 during the infamous wardrobe malfunction that aired on live TV.) Additionally, actor and director Alexandria Wailes will perform both the National Anthem and "America The Beautiful" in American Sign Language, according to Variety.
Among the singers who have previously performed the Nation Anthem are: Luke Bryan, Lady Gaga, Idina Menzel, Renée Fleming, Alicia Keys, Billy Joel, Diana Ross, Neil Diamond, Whitney Houston, Harry Connick, Jr., Garth Brooks, Natalie Cole, Vanessa Williams, Luther Vandross, Cher, Faith Hill, Mariah Carey, Dixie Chicks, Beyoncé, Christina Aguilera, and so many more.
Let's just say Pink's fans had a lot of feelings about their favorite star performing during the upcoming Super Bowl pre-game festivities.
Some Were Just So Darn Happy, They Could Only Articulate Their Thoughts In GIFs
Others Thought Pink Should Have Been Chosen To Perform During Halftime
Although they were totally stoked about Pink's upcoming pre-game performance, some thought the "What About Us" star should have been picked to play the halftime show — instead of Justin Timberlake.
Still, Others Are Now Planning To Watch The Super Bowl Only Because Of Pink
And honestly, I'm right there with them.
Many Think Pink Might Take Knee During Her Performance
Others wonder if the singer — who is a notorious rebel that gives zero f****s about what people think of her — will make some sort of political statement while in the spotlight. Some even believe (and hope) Pink could end up taking a knee, something dozens of NFL players have done after former San Francisco 49ers quarterback and civil rights activist Colin Kaepernick initially did so to protest police brutality.
"Hope she kneels while she sings it," one person tweeted. "Pink's rebellious. Bet she takes a knee," another Twitter user predicted.
To be honest, I wouldn't be completely surprised if Pink did make some sort of political statement. In October, the singer took to social media to slam President Donald Trump after he had instructed Vice President Mike Pence to walk out on a Colts-49ers game if players took a knee. When a fair amount of players for the 49ers ended up kneeling for racial and social injustice during the National Anthem, Pence and his entourage made a dramatic exit — an expensive political stunt that was criticized by many.
Pink was among those who ripped into the president. "@POTUS you are doing a terrible job. Worse than every other job you've done terrible at," the singer tweeted. "Do you seriously have time to worry about the NFL?" She soon followed up this tweet with, "I've seen people change and turn their lives around. There's still hope for you @POTUS. It's what the world needs."
To this day, Pink remains open about her thoughts on Trump. On Jan. 6, she wrote about a few things she's looking forward to in 2018. "I'm also excited for trump to lose his twitter password," was among her list, along with what now seems to be a hint for her upcoming performance at the Super Bowl: "Some other stuff that's a secret still and I can't wait til it's not a secret." Hmmm.
Pink is one of my all-time favorite artists. I love her music. I love her as a person. And I love her as a mom. Personally, I think the Dee Lockett who penned this Vulture article already called it: Pink will fly in on one knee to sing the National Anthem. (Now that would be a sight to behold.) My husband always tunes into the Super Bowl and most years I couldn't care less. However, you can bet this year I will definitely be tuning in to see Pink's performance.
Check out Romper's new video series, Romper's Doula Diaries:
Watch full episodes of Romper's Doula Diaries on Facebook Watch.