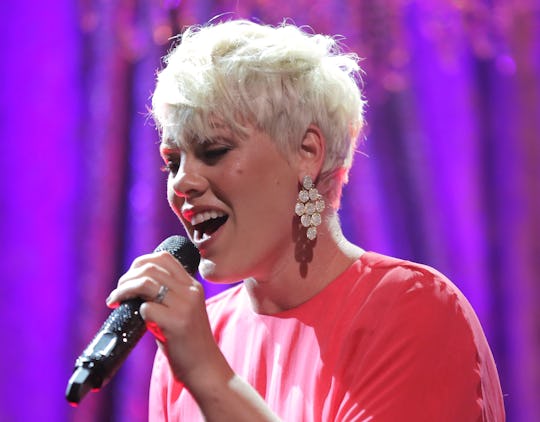 Chelsea Lauren/Getty Images Entertainment/Getty Images
Pink Tried Something Different With Her Grammys Performance & Fans *Loved* It
Many would probably agree that 2017 was officially the year marking Pink's big comeback — and yet somehow, 2018 is shaping up to be even more epic for the singer. In 2017, Pink released her first album in more than five years, Beautiful Trauma. Now in 2018, not only will the kick*ss performer be singing The Star-Spangled Banner before kickoff on Super Bowl Sunday, but she was also featured during the 2018 Grammy Awards this evening. And quite frankly, it comes as little surprise that this no-nonsense mom of two brought down the house with her live performance of "Wild Hearts Can't Be Broken." In fact, Pink's 2018 Grammy's performance already has fans buzzing on Twitter.
Oh, and did I mention Pink is also nominated for a Grammy this year? Yep. She earned a nomination for best pop solo performance for her hit "What About Us," reported Billboard. And this certainly isn't the first time she's been up for a Grammy. (Far from it, actually.) According to the award show's website, Pink has been nominated for a whopping 19 Grammy Awards during her impressive career — and the star has even managed to take home three of them so far. Let's take a look back at all of her wins, shall we? In 2002, Pink won Best Pop Collaboration with Vocals for "Lady Marmalade," which also featured the talents of Christina Aguilera, Lil' Kim, and Mya. In 2004, she took home the Best Female Rock Vocal Performance for "Trouble." And in 2011, Pink won Best Pop Collaboration With Vocals for "Imagine" alongside Seal, India Aerie, Herbie Hancock, and Jeff Beck.
Before the awards began, the "What About Us?" star stunned in a purple, pink, and black, feathery gown alongside her dates, husband Carey Hart and daughter, Willow, for the event. But she was only warming up for her big moment in the spotlight. Pink sang "Wild Hearts Can't Be Broken" for her Grammy performance, and honestly, fans couldn't love her more. This time around, it seems Pink went for a more subtle approach for her performance — letting her amazing vocals shine instead of her crazy acrobatics. In fact, many of her fans live-tweeted their praises in the middle of her song.
Considering the fact that Pink has wowed crowds with aerial acrobatics during award shows in recent years, it was probably expected that her Grammy performance would be yet another night to remember. Although it was a memorable performance (and her vocals were flawless), Pink managed to keep both feet on the ground for tonight's performance. However, during the American Music Awards (AMAs) this past November, for example, fans took to Twitter to sing Pink's praises for her performance of "Beautiful Trauma." Entertainment Weekly reported the star's performance — featuring acrobatics on the side of a freaking hotel building — floored fellow music legends and fans alike. "Just when you think you've seen it all, @Pink outdoes herself. Wow," Ellen DeGeneres tweeted. And Katy Perry pretty much summed up what were were all thinking at the time. "HOLY S*** @PINK'S @AMA PERFORMANCE IS THE STUFF OF LEGEND," Perry wrote on Twitter. Amen, sister!
And during the 2016 Billboard Music Awards, Pink sang "Just Like Fire" while suspended from a trapeze and twirling in the air, People reported. (Honestly, I would have puked.) Did I mention she did so while delivering a flawless vocal performance? I mean, is there anything this performing powerhouse can't do?
You'd think Pink would eventually run out of ways to outdo herself. But once again, this dedicated performer has proven us all wrong. Although she managed to keep details of her Grammy performance under wraps leading up to the big night, reported Us Weekly, the end result was well worth the wait, in my humble opinion. It's a good thing the Super Bowl is only a week away at this point because now I'm already itching to get my next live fix of Pink. What are the odds that she'll be soaring through the air in some way for her rendition of The Star Spangled Banner? I can't wait to find out!
Check out Romper's new video series, Romper's Doula Diaries:
Watch full episodes of Romper's Doula Diaries on Facebook Watch.