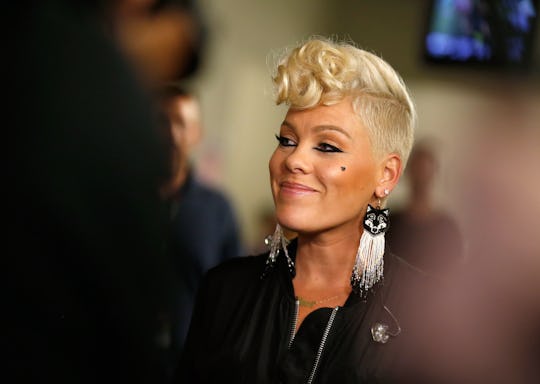 Isaac Brekken/Getty Images Entertainment/Getty Images
Pink's Most Relatable Breastfeeding Photos Will Make You Love Her Even More
If there was ever any doubt that Pink is basically the most honest, badass, and relatable mother out there, it's about to be squashed. Seriously, all of Pink's breastfeeding photos that she has shared prove that much to be true and can resonate with so many other nursing moms out there. But her messages within these photos convey something much stronger: moms are unstoppable and there's no need for breastfeeding to be a controversial discussion.
Yet, for some reason, breastfeeding, especially in public, still carries a stigma. So, when someone with a huge platform decides to make it a point to normalize breastfeeding — whether they're at work, at home, or on the go — it's kind of a big deal. Enter: Pink. The Grammy-winning singer and mother of two has used her social media page to showcase the beauty and normalcy of breastfeeding for quite some time now.
But it's still noteworthy, because even though being a mother in and of itself is a trying task, societal norms and judgement from people who don't even know you make it all the more difficult. That's why Pink's breastfeeding photos and stories behind them are such a breath of fresh air. So, without further ado, here are all the times Pink has proven that breastfeeding should be celebrated, because it's pretty dang magical.
When She Snapped The Cutest Selfie Of Her Son Enjoying Lunch
Pink's youngest child, 10-month-old Jameson Moon Hart, is the perfect model for many of Pink's breastfeeding snaps, and this adorable photo is no exception. "Jameson can multitask too," Pink captioned the above photo, obviously referring to her son breastfeeding while also painting her chest with a makeup brush.
And please, ladies a gentleman, a moment for that emoji choice and placement.
OK, moving on!
When She Took A Break To Pump At Work
Back in August, Pink shared this refreshingly real selfie of having to pump her breast milk while on the job. "And now this," she captioned the shot along with the hashtags #pumpupthejams and #mombreak.
Pink might be on tour and performing for sold out concerts, but all nursing moms know the struggle of having to find a moment in a less than ideal locale to pump for their little ones at home.
When She Showed That Sometimes, You Gotta Breastfeed On The Go
As basically all moms know to be true, there is really no telling when or where your baby will get hungry and you'll have to just whip that boob out. And Pink knows this too. "Hiking makes us thirsty!" she captioned the photo of little Jameson getting a nice, nutritious snack while hiking a trail with mom.
And even though most of the comments Pink gets on her breastfeeding photos are ones of support, she still (unfortunately) has to defend herself sometimes. Back in September, she appeared on The Ellen DeGeneres Show and discussed the hypocrisy of strangers having such strong opinions on breastfeeding.
"Strong opinions about things that don't affect their life at all," she told DeGeneres, according to HuffPost. "I'm feeding my kid. Would you rather him scream? Because he's very capable of that, too."
When She Showed The Beauty Of Everyday Life As A Mom
Of course, not every waking moment with your baby will be happy or exciting. But, it will be filled with love, which is something Pink also understands. In the above photo, with Jameson breastfeeding, and Pink's 6-year-old daughter, Willow Sage Hart, sleeping on her lap, the mom of two looks perfectly content. And her caption of the picture perfectly describes that feeling. Quoting a poem from Rumi, Pink wrote:
'I was dead-I came alive. I was tears-I became laughter. Love's wealth arrived, And I became Everlasting fortune.' -rumi
And When She Was Basically Every Mom, Ever While Pumping
"When you're almost done pumping and you know what's next," Pink captioned the photo of her using her breast pump while also holding a bottle of wine.
As the photo shows, just because you're done breastfeeding at that moment, doesn't mean that feeding your baby is any less complicated. But, as with most things in life, the promise of a glass of wine might just make all the stress and difficulties worth it.
Watch Romper's new video series, Romper's Doula Diaries:
Check out the entire Romper's Doula Diaries series and other videos on Facebook and the Bustle app across Apple TV, Roku, and Amazon Fire TV.