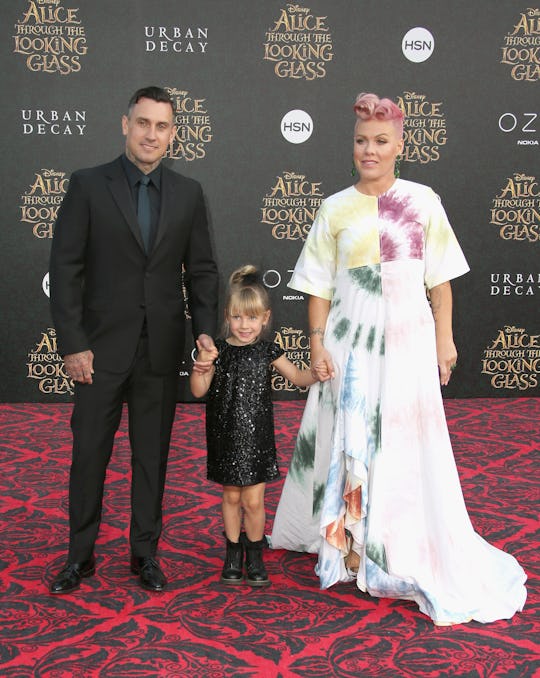 Frederick M. Brown/Getty Images Entertainment/Getty Images
Pink's Breastfeeding Selfie Proves Moms Can Do Anything
For years, singer Pink has been empowering women through her fearless attitude and can-do song lyrics — not to mention her equally fierce personality. This attitude clearly carries over to Pink's parenting style as a mother of two, and that confidence shows through clearly on her Instagram account. Yes, Pink's headstrong approach to parenting could not be more clear — just take a look at Pink's recent breastfeeding selfie which proves not only that she's a badass mom, but that moms in general are incredible at getting stuff done.
Multitasking must come relatively easy to Pink, like it does to all mothers (practice makes perfect, right?). Pink is already a mom to 5-year-old daughter Willow and 4-month-old son Jameson — and in those five years, she's continued to release new songs and perform at the same time. As it turns out, all that forced multitasking comes in handy when you have a new little one in the house. Case in point — her most recent Instagram photo.
In the photo, posted to her account on Wednesday, Pink breastfeeds son Jameson, strapped to her chest, while on a hike outdoors. The doting mother looks pretty proud of her son and her ability to take a selfie while hiking and breastfeeding at the same time, smiling widely for the camera (and why shouldn't she be?). Her caption sums up the photo perfectly: "Hiking makes us thirsty! #happybaby #hotpocket #normalizebreastfeedingyo #arewethereyet"
All told, it's an empowering message that helps end the stigma and normalize breastfeeding. Taking a picture of breastfeeding and sharing it online, or simply breastfeeding in public is completely OK — and Pink's use of her platform to get this message across is awesome.
This is not the first time that the singer has gotten real about breastfeeding. In 2012, Pink joked with British talk show host Alan Carr that she would "start fights in restaurants" with anyone who made a rude remark about her breastfeeding in public. Pink also told Carr that she purposefully breastfeeds in public to raise awareness, stating:
I do. I do on purpose. I think breastfeeding is healthy and natural and it's a comfort to my baby.
Pink's attitude towards breastfeeding falls in line with her general badass approach to parenting. In January, Pink took her newborn son and young daughter to the Women's March in California — because you've got to teach them early and raise them right. Pink's mission to normalize breastfeeding and exposing her children to new ideas at a young age simply falls in line with her goal to be a successful mother. "I love being a mama," Pink told Good Morning America in May 2016. "I made a choice a long time ago that I was going to have a successful family and that is my number one goal in life."
True to form, Pink's breastfeeding selfie proves that she's doing the whole parenting thing absolutely right.