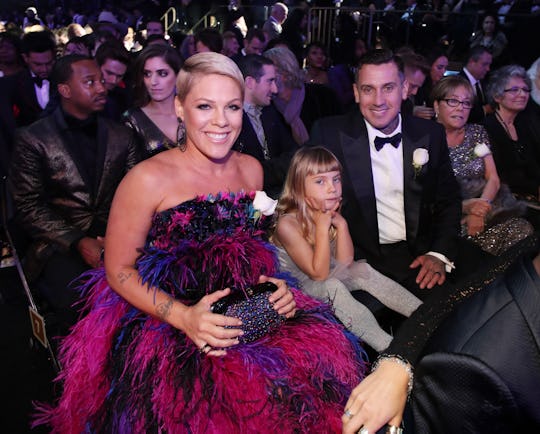 Christopher Polk/Getty Images Entertainment/Getty Images
Pink's Daughter Gave Her Dad A Haircut & The Results Are Hilarious
When kids explore their creative side, they create unlikely masterpieces that are sometimes worth framing in their parent's home (or at least, receive a prime spot on the refrigerator). But this is typically done with paints and markers, not any other medium or tool that could cause some interesting (and lasting) results. Singer Pink is known for being creative in her music and performances, so it shouldn't come as a surprise that she lets her 6-year-old daughter, Willow, explore her creativity, too. Except this time, Pink's daughter gave her dad a haircut and the results are definitely worth seeing.
Young kids are not to really be trusted with safety scissors, let alone an electric razor that can create some lasting effects. But an electric razor is the exact tool that Pink and her husband, Carey Hart, allowed for Willow to use on Friday evening. In a hilarious Instagram, posted to Hart's account, Willow holds the electric razor in one hand, looking sternly into the camera. While Willow might look proud of what she has just done, Hart on the other hand, looks a little bit petrified, especially since he's missing a strip of hair right down the middle of his head, likely to have been shaven off by his daughter. "This is what happens when you ask your daughter for a fade," Hart wrote in the photo's caption.
And that is exactly what happens when you trust a six year old to give you a haircut. The photo is definitely worth seeing, in only to believe how fantastic Willow's handiwork is.
It's super easy to find the humor in this situation. It's likely that Hart didn't actually think that his daughter would give him a straight-out-of-the-salon haircut (she's only six and has not been in school for that long, let alone that of a beauty school). And based on Hart's Instagram post and a follow post on Friday, he seems to be taking the haircut pretty well (otherwise he wouldn't have posted it).
But commenters on Instagram seem to have a mixed reaction to Hart's new look. Some commenters started shaming Hart and Pink as parents. "Yeah, I'm not laughing. Next time, tell her what a 'fade' is," one commenter wrote. "Oh no!" another commenter added. But the majority of the reactions to Hart's new look have been incredibly positive. "What a great dad. You rock it," one commenter wrote to Hart. "Willow has skills as a hair dresser. What a beautiful little girl," another commenter said.
These positive comments likely come from fans who know that Hart and Pink's parenting style is a bit more untraditional and alternative, just like her music. And that definitely isn't a bad thing — it allows for their daughter (and their 1-year-old-son, Jameson) to explore their creative side. Even if Willow didn't intend to mess up her dad's hair, Pink said in an interview last year, according to Us Weekly, that she needs her kids to mess up in life and learn from that. Pink said, according to Us Weekly:
I see my 6-year-old and I'm like, "I want to give you the shit I already know." But you can't borrow somebody else's knowledge, you have to buy your own. I know that, too. It sucks when you're a mom. I don't want my kids to buy their own knowledge, I want them to swallow mine.
Late last year, Pink revealed in an interview that she and Hart raise their children in a label-free household, according to Newsweek, putting less of an emphasis on the gender of their kids and making choices not based on their genders but on the decisions her children want to make for themselves (so this haircut isn't too out of line). Because of this, according to Parents, Pink lets her daughter explore her different hobbies and interests. In a 2015 interview, according to Parents, Pink revealed that Willow does arial silk yoga, much like her mom, and also ride dirt bikes, just like her dad.
Now, it's clear that her hobbies are extending to beauty. In the past week, according to Us Weekly, both Pink and Hart have posted videos to their Instagram accounts of Willow playing with makeup in front of the camera. The fact that Hart let her cut his hair shows that they're serious about letting their children explore and make decisions for themselves, which is a totally awesome parenting move.