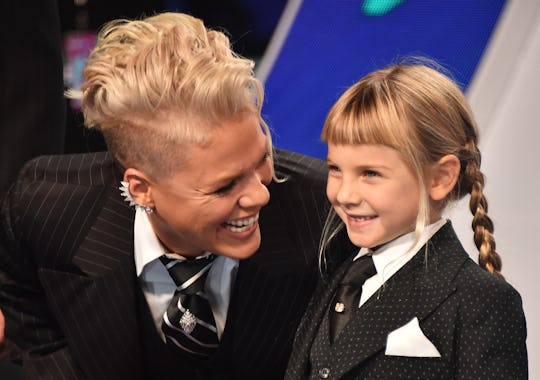 Frazer Harrison/Getty Images Entertainment/Getty Images
Pink's Daughter Is Rolling In Cash After Pulling Out Her Loose Tooth By Herself — PHOTO
When you're a kid, things like Santa Claus and the Tooth Fairy are some of those magically mysterious things you don't really question. You lose a tooth and $5 ends up under your pillow. But some kids have to work for that Tooth Fairy money, but one certain celeb kid knew exactly where the money was coming from... and he didn't have wings. In case you missed it, Pink's daughter apparently got a huge payday for losing a tooth. But before you start making assumptions about celebrity parents and all that jazz, young Willow worked hard for her cash.
Of course, not every kid gets money from the Tooth Fairy for losing a tooth (or even believes in the Tooth Fairy), nor does every child get as much as Pink's got. But some families like the tradition, and it seems Pink and her kids are fans of the cash for teeth deal. And according to Pink's husband, Carey Hart, the couple's 7-year-old daughter recently won a three-figure bet for pulling out her loose tooth on the first try — wow! — getting herself a nice $100 prize directly from her dad.
"Willz is gonna be the next major investment banker," Hart captioned a photo of his daughter showing off her newly lost tooth and a crisp $100 bill. "We settled on 100 buck for 1 shot at pulling her tooth out. Was the best money I ever spent, and she got 20 weeks worth of tour per diem in 5 seconds. #LoveThisKid."
OK, based solely on the fact that Willow was able to pull out her own tooth, it definitely seems like she's already taking after her badass, strong, and fierce mom, right?
This is hardly the first time that Hart and Pink have taken to social media to gush about their fearless daughter and share utterly adorable photos of both Willow and their son, 1-year-old Jameson Moon Hart. For example, for Willow's birthday earlier this month, Hart took to Instagram to wish his "badass daughter" a happy birthday. In the sweet photo, Willow with awesome purple hair is standing in front of her party table and Hart wrote the following caption about his daughter:
I love this little girl more than life itself. She is becoming such a strong, smart, sensitive, little girl. I'm so proud of everything you are and I enjoy every moment we are together. Even when you are giving me a hard time! Happy 7th big girl, your mamma, little brother, and papa love you around the moon 10 million times and back.
And don't forget about Pink; she has also done plenty to assure their daughter that she's truly priceless — $100 bills aside. While accepting the Video Vanguard Award at the 2017 MTV Video Music Awards, Pink spoke passionately about Willow and told a story about teaching her daughter to love herself. According to TIME, Pink shared a conversation she had with Willow one day, "She said, 'I'm the ugliest girl I know.' And I said, 'Huh?' And she was like, 'Yeah, I look like a boy with long hair.' And my brain went to, 'Oh my god, you're six. Why? Where is this coming from?'"
Then, Pink went home and showed her daughter a powerpoint of all androgynous superstars, including the likes of David Bowie and Michael Jackson, and also told Willow about how she herself had been told she looked like a boy, but she didn't change up her look. According to TIME, she finished her story to Willow:
So, baby girl. We don't change. We take the gravel and the shell and we make a pearl. And we help other people to change so they can see more kinds of beauty.
Willow is loved beyond measure, that much is true, and whether she's pulling out her loose teeth with her own bare hands, owning herself and her style, this 7-year-old has got plenty of support.