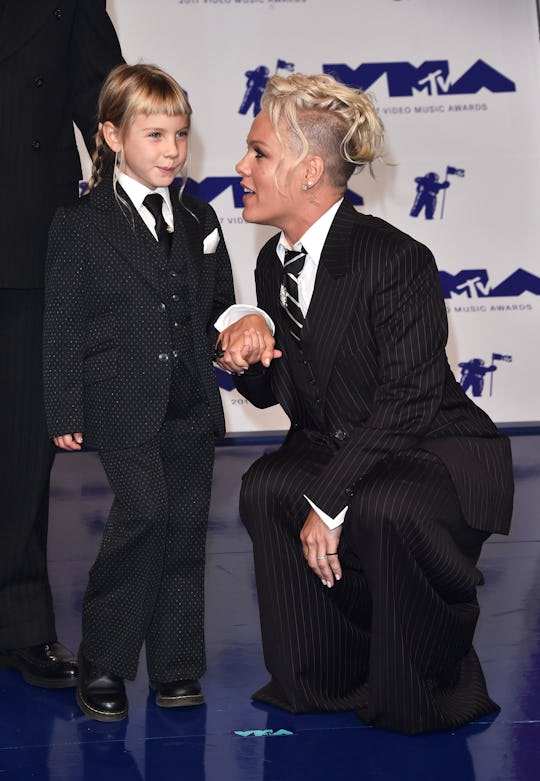 Alberto E. Rodriguez/Getty Images Entertainment/Getty Images
This Video Of Pink's Daughter Running Out On Stage During Her Concert Is *Too* Cute
Pink's whirlwind tour of Australia over the past couple of months has included a few special moments with her children, who have been traveling the Outback alongside her. During Sunday night's performance in Sydney, Pink's daughter, Willow, rushed on stage for a hug. The special moment between the two proved that while Pink may be busy performing for thousands of adoring fans, her children still come first.
The singer was in the middle of her hit song, "Raise Your Glass," when little Willow, already in her pajamas for the night, ran onto the stage to steal a hug and a goodnight kiss from her mom, according to Daily Mail UK. Pink then scooped her daughter up into her arms to let her wave to the crowd.
Believe it or not, Willow's cameo in Sydney was a repeat performance. She also came on stage back in July during her mom's show at the Perth arena. That time, she was wearing some colorful leggings and noise canceling headphones when she waved to the crowd, Billboard reported. While going on tour with two littles in tow is likely difficult, Pink and her family sure so make it look fun. There is no denying that the star has a special bond with her daughter; she has spoken about the joys and challenges of motherhood numerous times.
Daily Mail UK reported that Pink's children, 7-year-old Willow and 1-and-a-half-year-old Jameson Moon have tagged along for the duration of their mother's stay in Australia for her Beautiful Trauma world tour. Along with numerous stops throughout the country, the family has also made time for a bit of quality bonding time together such as a visit to the Currumbin Wildlife Sanctuary in Queensland, Australia, E! News reported. While there, Willow got the unique opportunity to snuggle with a koala bear and feed a baby kangaroo.
Unfortunately, not all of Pink's time in Australia has been quite so fun. She had to postpone her visit to Sydney due to illness and cancel some other shows, according to Entertainment Tonight. But when she was accused of cancelling to "relax on a beach," she was quick to respond via Instagram after being discharged from the hospital, E! News reported. She said:
You might actually see me walking upright outside of my hotel room cage with two little children, and another warning: I might even smile. Not too much, though. I'll try to control the smiling.
It's not a surprise that she would choose to spend her time offstage with her little ones. She has spoken openly about how motherhood has changed her, and the bond that she shares with her children. In a touching Instagram post, Pink quoted a translated version of a poem by Rumi, saying:
'I was dead- I came alive. I was tears- I became laughter. Love's wealth arrived, And I became Everlasting fortune.' -rumi
She has also posted numerous special moments between herself and her family. From cooking dinner all together, to sunny afternoons spent at the beach, family time is in no short supply. Along with advocating for motherhood in general, Pink has also spoken openly about her support for another special form of bonding between mother and child: breastfeeding. While appearing on a British talk show in 2012, she recalled a time when she was shamed for breastfeeding Willow in a restaurant. She also posts photos of these special moments, such as the throwback photo she shared in August of 2016 of her and Willow with the caption, "I proudly post this photo of a very HEALTHY, NATURAL act between mother and child," she wrote.
The visits from Willow on stage while her mom is literally in the middle of rocking out just go to show that a mother's work is never done. No matter how many other obligations — or screaming fans — you have in front of you, children always come first.