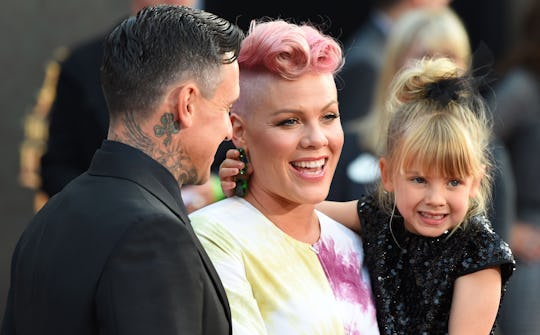 ROBYN BECK/AFP/Getty Images
Pink's Daughter Willow Competes In Her First BMX Race, & Odds Are It Won't Be Her Last
It's hard to believe Willow Sage, Pink's daughter with husband Carey Hart, is already 5 years old. And it looks like she's going to be a tough little daredevil just like her mom and dad. Whether it's Pink dangling from the ceiling or Hart tearing up the BMX track, these two are a power couple to the extreme. Which is why it wasn't all that surprising to see cute family pictures on social media this weekend of Pink's daughter Willow competing in her first BMX race, and odds are it won't be her last.
After all, Willow's dad is a world-class BMX racer. And based on Pink's social media commentary, he is loving seeing his baby girl follow in his tire treads.
"I like her intensity. She reminds me of someone," Pink wrote in the Instagram caption of a photo of her girl at the starting line. "This might have been Carey Harts' Best Day Ever."
Also, take note of Willow's fab pink helmet in what has to be a nod to her very proud mama and her signature color. According Today, Pink reported the results of Willow's race: She came in third place, and her parents couldn't have been prouder.
Take a look at the little cutie getting ready to race and getting a few last-minute words of advice from her dad, who also happens to be one of the most dominant athletes in the sport.
Carey also couldn't resist marking the milestone on social media with this series of sweet tweets:
Little Willow has obviously been working with her dad for a while on her BMX skills; here's a cute picture of the daddy-daughter duo rocking their matching racing gear back in June, according to US Magazine.
Here's a picture from about a year ago of little Willow on a dirt bike working with her dad.
Last May Pink stopped by Ellen DeGeneres' show to gush about Hart, who she's been with for a decade. She called him an "incredible dad" and a "cuddle monkey," according to Today. The two celebrated their 10th anniversary in January, Today said.
The two have had a rocky relationship at times, taking a few breaks here and there. But, according to Today, the two have been together steadily since Willow was born in 2011.
The pair is obviously enjoying raising their little girl. No word yet on when Willow is expected to record her first in-studio album, but chances are it could be happening sooner rather than later.