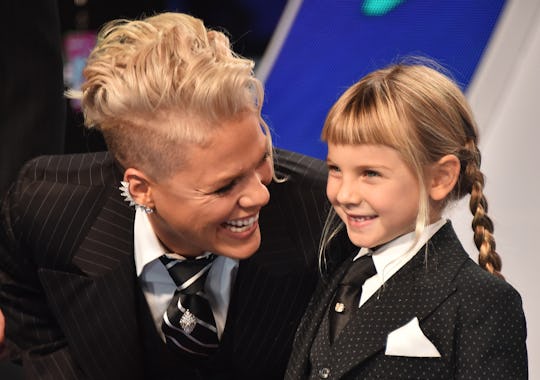 Frazer Harrison/Getty Images Entertainment/Getty Images
Pink's Daughter's Letter To Santa About Her Elf On The Shelf Is Seriously The Best
I don't know about you, but December at my house is pure insanity. The holiday parties and gift exchanges at school. Attempting to buy, wrap, and store presents for my three kids without them finding out. All of the other gifts, family gatherings and weird schedules — on top of the regular work I have to do, my kids' extracurricular activities and our normal chores at home. It's like a marathon, and by the time Christmas finally rolls around, this mama is exhausted. Maybe that's why I find Pink's most recent Instagram post so hilariously relatable. Pink's daughter wrote a letter to Santa about her Elf on the shelf fail, and it will make you LOL.
Like many parents have opted to do in the weeks leading up to Christmas, Pink does the whole Elf on the Shelf charade with her kiddos. You know, where you buy that creepy AF, grinning elf doll and he causes mischief around your house while supposedly "watching" your kids to make sure they're being nice and not naughty? Yeah, that. Well apparently Pink forgot to move their elf, Chippy, for a few days. And this did not go unnoticed by her 6-year-old daughter, Willow. Pink took to Instagram to share the adorable letter Willow penned to Santa Claus, reports ET Online.
Along with a photo of the letter (which included a sweet drawing of an elf,) Pink wrote, "Translation: MOM FAIL "santa, I am worried about Chippy, he has been in the same spot for 3 days. I don't know why." #elfonthesamedamnshelf" LOL. The singer's Instagram followers were quick to empathize — and some even chimed in with their own tales of Elf on the Shelf fails. "Hahahaha!!! Glad to know I'm not the only one!! Our poor Fred hasn't even made an appearance this holiday season," one parent confessed. Another Instagram user wrote, "Struggle is real whoever f***ing invented this damn elf on the shelf should be slapped." Yet another person shared, "I've had to be a ninja that morning and move that thing before my son saw."
Others offered up explanations they've used on their kids for why the elf hadn't moved. "I told mine her guy liked that spot and kept coming back there!" one follower advised. Another one of Pink's followers suggested, "I always tell my kids the elf needs rest sometimes, or he/she is trying to collect information to take back to Santa and where he/she is is a good place to watch from." One person had another believable excuse, "Haha we have had this too, I've told them he's so tired from making all the toys for Xmas with Santa! Lol."
According to Today.com, the Elf on the Shelf tradition began 12 years ago when Carol Aebersold and her daughter, Chanda Bell self-published their book The Elf on the Shelf: A Christmas Tradition. The book didn't really take off, though, until Jennifer Garner was photographed with it in 2007, according to the publication. Part of the book reads:
Each night while you're sleeping, to Santa I'll fly. I'll tell him if you have been good or bad. The news of the day makes him happy or sad… I'll be back at your home before you awake, and then you must find the new spot I will take.
Yeah. Like the writer of this blog post, I'm going to have to take a hard pass on the whole Elf on the Shelf phenomenon. I shouldn't have to coerce my kids into behaving through a creepy elf. Plus, I'm frazzled enough during the holiday season; one more thing to remember amid the chaos that is the Christmas countdown would put me over the edge. (I would probably end up like Pink anyway, and forget to move the blasted thing.) Not to mention, I feel bad enough lying to my children about the existence of a chubby old man in a red suit who breaks into our home to leave them presents once a year. And who needs a elf spying on you, when we already have Google Home and smartphones doing that for us?