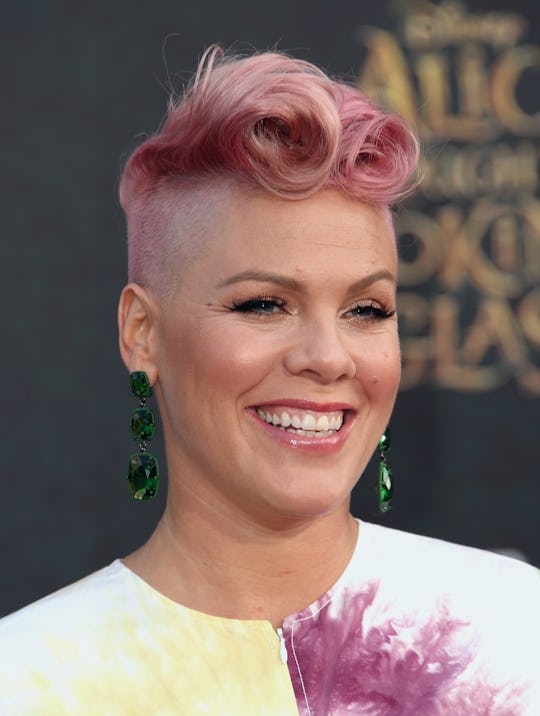 Frederick M. Brown/Getty Images Entertainment/Getty Images
Pink's Latest Baby Photo Is An Absolute Gift
When life's got you down, and current events are terrifying, at least there are always pictures of babies in funny outfits to cheer you up. On Monday, singer-songwriter Pink added another wonderful offering to the canon with an Instagram of her new son in a hilarious onesie. And yes, Pink's Instagram of baby Jameson is the Monday afternoon pick-me-up the world needs right now.
Pink and her husband, former Motocross racer Carey Hart, welcomed their second child, Jameson Moon Hart, the day after Christmas, 2016. The singer was discreet about her pregnancy while it was actually happening, keeping the news under wraps until mid-November. (Side note: how do you manage to hide a baby bump that long when you're a famous person? It must take so much sneakiness.) But now that Jameson is out in the world, his mama is happily showing him off.
The 37-year-old singer posted the Instagram in question with the caption "Happy Monday." In it, little Jameson, who is less than 2 months old, lies on what appears to be a quilted changing mat, clad in a onesie bearing the words "Straight Outta Mumma" in the Straight Outta Compton style. And my word, that is one tiny, adorable baby. Perhaps all the people making big political decisions in the world should be forced to look at his picture every morning, so that they go into the day in better moods, more predisposed to be kind.
Don't go thinking that this is little Jameson's only amazing onesie, because it's not. Pink recently paid tribute to fellow powerhouse singer Adele (while giving a nod to her own son's often-used vocal chords) by dressing him in one that read "Hello, it's me. I must have cried a thousand times."
In mid-January, Pink called into The Ellen Degeneres Show to discuss her son, calling him "delicious," while also revealing that she's working hard to make sure that her daughter, 5-year-old Willow Sage, doesn't feel left out. She even said, "I literally put Jameson down when [Willow] walks in the room," because Willow is "a little weepy these days, so we're working it out." One of the adorable ways they did so was by throwing her a "Big Sister" party. Pink's family might be the coolest family ever.
If, after looking at all these photos, you're feeling like your baby's onesie collection needs a boost, you can order your own "Straight Outta Momma" onesie on Etsy.
Thanks to Pink and Jameson for brightening our Monday! We all definitely needed it.